Empowering Your Real Estate Dreams
Helping You Take Action With Confidence
As experienced Realtors & brokers serving the Portland metro area we're here to help you attain the best possible results on your next transaction. Be it buying, selling, or assistance from a short sale specialist, The Lockwood Group at Oregon Realty Co has the vital experience needed to successfully navigate today's demanding residential housing environment. Portland's housing market is a dynamic and fluid environment and we help our clients stay informed and ahead of the pack. We stayed in business through the recession (providing short sale specialist & brokerage services) when most of our competitors folded because we put our clients' needs first and offer the best service and most pertinent information. We are Portland area agents who are also short sale specialists and we're dedicated to you achieving your purchase or sale.
Learn More About Our Short Sale Services in Portland, Or
For us, being a Portland short sale specialist is much more than simply being a Realtor who has a certification or who has receiving an allotment of class-room learning. It's about helping the family in Gresham facing expensive medical bills escape from their mortgage. And also about giving a family in Hillsboro or Beaverton who's faced with a distant career transfer a way to settle their mortgage debt and do the right thing. And, while we are SFR (Short Sale Foreclosure Resource) certified our most valuable asset is our experience in helping 100′s of clients successfully complete the short sale process. Some other Realtors who claim to do short sales actually hire out the short sale negotiations whereas our commitment to quality means we take a hands-on approach and complete the process in-house, whether your property is in downtown Portland or Oregon City. Handling the short sale process in-house ensures that our real estate clients receive the best possible representation while cutting out cumbersome middle-men that add needless cost and complication to the process.
Some other Realtors working in the Gresham market don't negotiate the short sale in-house and often tack on additional fees that buyers or sellers have to pay out of pocket; whereas we are specialists paid as normal Realtors out of the bank's closing proceeds. Other agents' additional fees increase the risk of failure because the housing market is already tough enough without forcing buyers to shoulder additional costs. Likewise, it goes without saying that short sale sellers aren't in a position to bear the additional financial burden of blue-sky negotiator fees. Whether your place is in Gresham or on the west side in Beaverton, we want your short sale done right, and as part of our commitment to real estate excellence as short sale specialists means we will personally negotiate with the bank on your behalf.
Our unmatched experience as real estate specialists in Portland area short sale transactions means you benefit from every transaction we've completed and we can answer your questions with concrete examples of strategies that have worked in past scenarios. It also means that our talents have been refined through repeated success. Outlying areas like Beaverton haven't increased in price as much as close-in areas like Lake Oswego. It comes as no surprise that Beaverton and other suburbs like Gresham, Oregon City or Hillsboro see more short sales than other areas. A short sale can be a great way to reduce or eliminate bad debt and put you and your family on a firm financial path toward recovery. Your financial future demands our real estate knowledge, short sale experience, and our unwavering commitment to providing the finest in client representation for all of Portland metro from Gresham, Oregon City and out past Hillsboro. For many, the short sale is a home owner's last chance to avoid foreclosure and settle their debt. Now is not the time for you to take chances and roll the dice on an agent with less experience. You need a Realtor/Specialist team on your side; it's time for you to put our proven track-record of excellent results on your side.

Oregon

's Largest Independent Real Estate Firm
Industry Leaders Throughout the Portland Metro Area

Not only are we licensed brokers, we also have the backing of Oregon Realty Company's 65 year tradition of excellence in service in the entire Portland metro area from Gresham to Hillsboro and Oregon City. Our innovation and success has led to our recognition as top producing team of short sale specialist Realtors within our firm and we continually strive to improve our highly esteemed service. But at the end of the day it's not about the numbers. What truly matters is that we have the experience, specialist skills, and the credentials to make things happen for you. When you accomplish your real estate goals that means we've done our job right. Call us when you're ready to have experienced professionalism of a local Portland area specialist broker team working everywhere in between and including Gresham, Beaverton/Hillsboro and Oregon City.
Short Sale Specialists
Nationally Certified Short Sale Resource Agents
When most real estate agents were running away from these daunting transactions we went against the grain and became short sale specialists. Since then, clients and colleagues alike have come to recognize our industry-leading specialist status, obtained through SFR Certification and innovation through completing successful short sales. Recent increases in home values have not been even across the board; areas like Inner SE Portland have increased much more than outlying areas like Gresham. Other areas' property values are dictated by average wages. And, even though Beaverton has high-paying tech jobs competition means that wages can't increase to match gentrification. Areas like Hillsboro's prices are also dictated by average household income. We've helped people just like you short sale their property in the suburbs of Gresham, Hillsboro and Beaverton. As highly experienced Portland short sale specialist Realtors; other real estate agents call us for advice when they get stuck simply because our extensive background in closing short sale transactions means we've dealt with a much wider variety of these transactions. Tell us about your scenario and what you need help with and you will gain the benefit of our success in negative-equity bank settlements. With your financial future on the line you need our team's proven, specialist track-record of helping home owners just like you.
Have Short Sale Questions?
We are a Certified Short Sale & Foreclosure Resource
Get Answers: 503-473-8001

Portland Homes For Sale By Area:
Browse through the links below for Portland homes for sale sorted by area. Also included are surrounding real estate markets like Gresham south all the way to Oregon city and through the west side areas of Beaverton and Hillsboro. For those who want a more rural setting check out Sandy, Boring, Damascus or even Estacada. These outlying areas are perfect for people who want to live near Portland, Oregon but prefer a more rural lifestyle or want horses or a hobby farm. We hope you enjoy our free and simple search tools to help you browse amongst Portland area homes for sale to find a place to live that's just right for you and your family's lifestyle. Can't find what your looking for? Feel free to use our advanced property search to help narrow down your choices ranging from suburban ranches in Gresham and Oregon City or the newer subdivisions common to Beaverton or its more affordable cousin Hillsboro. Or just give us a call and chat with a Realtor/Specialist. We'll be happy to help you with anything related to Portland real estate or residential homes for sale.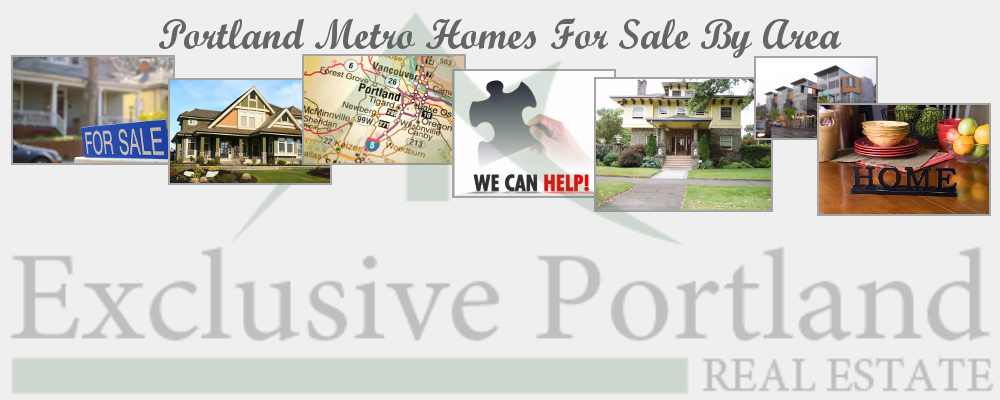 Click to Expand Area List
Unlike national chain websites, we're local Realtors (licensed real estate brokers in Oregon) and we care about helping you achieve your real estate or housing goals. As state licensed brokers with Oregon Realty Company we're proud to be a part of our firm's 65+ year tradition of quality service to our clients. Our knowledgeable team serves all of the Portland Metro Area and surrounding rural communities like Sandy, Damascus and Boring and we can't wait to earn your business by giving you our best. Our experienced staff and personal service are why people who give us a call almost always become lifelong clients. Want to make an offer on a short sale in Gresham, Oregon City, Hillsboro or anywhere in between? We're specialists at short sale transactions so you'll be in good hands. Thanks for visiting our site, we wish you all the best in your search for a comfy place to call home.

Top Portland Real Estate Markets
Portland, Oregon defines hip, local culture nestled in an environmentally & socially conscious milieu. Realtors hear comments on our city's "outdoorsy" feel, where Subarus & parkas are fashion statements. Locals enjoy coffee and the myriad of hand-crafted beers available at numerous independent establishments.
See: short sale Specialist Portland.
Beaverton, Oregon Realtors point out Beaverton's light rail and local high-tech firms offering ample career opportunity. The area is defined by financial success and a modern, suburban environment. High paying jobs at Intel and other tech giants led to the nickname "Silicon Forest". Also, Nike's World HQ is there.
Also see: Beaverton short sale agents.
Hillsboro, Oregon is a desirable suburb of the Portland Metro area known for it's proximity to great job opportunities. Adjacent to Beaverton, Hillsboro also greatly benefits from the large number of technology firms in the area. Real estate agents love this clean, modern suburb of Portland. Also see: Hillsboro Short Sale Specialists.
Lake Oswego Realtors define this close-in community by its fine homes, majestic trees and natural beauty with parks, hiking trails and the Willamette River. Lake Oswego's vibrant downtown offers retail, fine dining & leisure to the area's well-heeled residents with view homes in this safe area. Also see: Lake Oswego Realtors.
West Linn, Oregon Info
Located between the Willamette and Tualatin rivers, West Linn is appreciated for it's close proximity to downtown Portland real estate listings as well as its upscale, spacious feel. Realtors note the great schools and safe quiet neighborhoods of this sought-after suburb of Portland, Oregon.
Also see: West Linn Specialists.
Tigard is an ideal balance of roomy suburban housing along with modern urban amenities. Nestled between Lake Oswego and Beaverton, Realtors note Tigard's ideal harmony whether you work in downtown Portland or in Beaverton's technology centers.
Also see: Tigard Short Sale Specialists.
The Happy Valley real estate market features newer homes in an upscale, northwest suburban setting. Stands of old-growth fir trees give a peaceful skyline to Happy Valley. Close-by shopping districts and simple commuting make this area very popular. Prime area homes feature views of Mt Hood.
Also see: Happy Valley short sales.
Oregon City is the oldest city in the state and served as the capital in the time of pioneer settlement. Real estate listings vary from timeless Victorian homes to more contemporary options. Portland metro Realtors note plenty of properties to choose from in this conveniently located suburb of Portland.
Also see: Oregon City short sales.
Thanks again for visiting our site and we wish you all the best in finding homes for sale that meet your needs, help from a short sale specialist/Realtor, or if you need to sell your existing home and upgrade. We'll be your resource for information and keep you up to date on documents and best practices throughout the real estate transaction. More than this though, we're a powerful advocate looking out for your best interests throughout your endeavors. Let us know what you think of our homes for sale features and tell us how we can help you achieve your dreams. Want to learn more about short sales in Gresham, Oregon City or anywhere in between out to Hillsboro/Beaverton? We're short sale specialists and you've come to the right place.
Best Regards,
Richard Lockwood
Real Estate Broker
Follow Richard Lockwood on Google+
Short Sale Specialist Fall Report: Oregon City, Milwaukie, Happy Valley, Clackamas
Suburbs and outlying areas of the southeast Portland metro area like Milwaukie and Oregon City are still feeling the after-effects of the housing bubble. Short sale specialists note that Milwaukie currently has 35 pre-foreclosure listings whereas Beaverton only has 8, much fewer by comparison. Milwaukie is closely followed by Oregon City, which has 33 current short sale properties. Next down the list are Happy Valley at 16 and Clackamas at 13. However, if Happy Valley and Clackamas are counted together then the number is right in line with the larger areas of Milwaukie and Oregon City. By comparision, Milwaukie, Oregon alone has almost twice as many short sales as Beaverton, Tigard, Hillsboro, Tualatin, and Sherwood combined.
Milwaukie & Oregon City Property Values Slower to Recover
One of the main distinguishing factors that the west side suburbs have that is lacking in the east side suburbs of Milwaukie and Oregon City is the west's strong technology hub (colloquially dubbed "Silicon Forest") which provides thousands of well-paying jobs to its local community. Happy Valley and its larger cousin Clackamas are doing somewhat better perhaps due to the large Clackamas Mall and the area's commerce and business districts. Also, the fact that Happy Valley and many neighborhoods within Clackamas serve as bedroom communities for professionals who work in downtown Portland may also serve to lift the area somewhat. Nonetheless, with Happy Valley's and Clackamas' 16 and 13 respective short sales we can conclude that these factors have not been enough to cleanse local property values of negative equity.
Heading south from Oregon City and Milwaukie, one finds that the rural community of Canby also has significant pre-foreclosure activity. Canby currently has 16 negative equity listings. A bit further south to Molalla, OR reveals very similar numbers to Canby. At this time Molalla has 15 listings where the borrower owes more than the property can sell for. For more detailed information on short sale specialists for Sandy, Molalla and Canby be sure to check out our rural Clackamas County page.
Happy Valley, Clackamas Still Dealing With Negative Equity
Economists and housing market specialists understand that outlying areas are generally hit harder by reductions in home values. Thus, it comes as little surprise that Milwaukie property values are recovering more slowly than close-in real estate. Likewise, the many upscale homes built in Happy Valley and Clackamas during the 2000′s real estate boom means that although these homes fetch a higher price, much more is often owed against them. As stated above, the west side may have been inoculated against some of the downturn's effects because of it's strong micro-economy fed by the tech sector, which Happy Valley, Milwaukie and the other east side communities are not fortunate enough to have.