Disclaimer: author is not an attorney and the following is an editorial opinion article and should not be construed as legal or property management advice.
Portland Puts The Squeeze on AirBnB Hosts
Portland lawmakers say that these new rules will help free up rentals to long-term residents by taking them off of the vacation-rental market. While there certainly are some property owners who have turned normal single family dwellings into de facto hotels taking away from normal rental opportunities, these situations appear to be less common. Many feel that AirBnB is simply an efficient and reasonable way for people to get some much-needed extra money to help offset the high cost of living in our city. According to Willamette Week, hosts renting out spaces without a permit would face fines from $1,000-$5,000 and that the time of warnings ended on March 31st, 2017.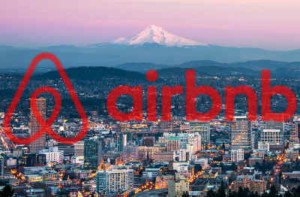 Internet home-sharing sites like AirBnB have blurred the line between landlord, hotel-operator and a normal person trying to recover some of their exorbitant housing costs by renting out a room or their house short term. For many Portland home owners, AirBnB is a safe and easy way to offset a bit of the high housing costs associated with living in our city as well as a way to help out fellow travelers needing a place to stay here and there. Unlike having a traditional room-mate, AirBnB hosts can have the flexibility to keep their spare rooms free when family friends or relatives are in town and manage availability times that fit their lifestyle. Additionally, home owners also appreciate being able to rent their home out while they're on vacation because mortgage payments are due on time whether you're backpacking the Pacific Crest Trail or sleeping at home every night.
Well, as luck would have it, the Portland City Council has just made all of this more difficult by now requiring AirBnB hosts to navigate a cumbersome and complicated permitting process on all short-term rooms and houses for rent/sublet within the city. For many people in Portland, renting out their home has become a popular means of becoming a more efficient and responsible society while also offsetting travel and vacation costs. However, new permitting requirements put new hurdles in place meaning that people wanting to visit Portland will have much fewer housing options and that home owners wanting to help someone else out and offset their own housing costs while they travel may now be simply out of luck.
City officials claim that the new crackdown on AirBnB hosts is to help ease the rental crisis in that the taxes and permitting process will push some home owners into offering their spare rooms as more long-term rentals. But, for me as a Realtor in Portland seeing record high real estate values and home prices, the city's legal measures seems more about increasing city tax revenue and helping one resident by harming another. The downside of these new anti-room-sharing laws is that many residents have been relying on AirBnB to help make ends meet. Without that extra income every month, we may start to see that strain affect the local economy and push some of those home owners into the red.