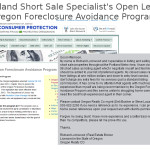 I've heard from clients over the years that they had gone to the Oregon Foreclosure Avoidance Program in search of more information about short sales and what options home owners in Portland, Oregon have available. As part of the mediation process, State of Oregon mediators often refer home owners to real estate agents, some of whom may have little short sale experience. This last week, a client called in and set up a short sale listing appointment with myself after being referred to Realtors in Portland who had only done a very small handful of short sales and to me this seemed unfair to the home owner. With this in mind, I have written the following open letter to the Oregon Department of Justice asking to be one of their recommended Realtors.
Good Afternoon,
My name is Richard Lockwood and I specialize in listing and selling
short sale properties throughout the Portland Metro Area. I have closed
98 short sales as listing agent which I negotiate myself and feel like I
should be added to your list of preferred agents. My closed sales range
from listings at one million dollars and down to entry-level condos. I
don't charge any extra fees for my services (just a standard listing
commission). It has come to my attention that agents with much less
experience than myself are being recommended by the Oregon Foreclosure
Avoidance Program and this seems unfair to struggling home owners who
need the best/most-experienced agent in their corner.

Please contact Oregon Realty Co mgmt (Deli Busher or Steve Lucas) at
503-652-2260 if you need a reference as to my experience. I can provide
home owner references upon your request and with client's permission.

Forgive my being blunt: I have more experience and a better track-record
than my competitors, please let me prove it to you.

Thanks,

Richard Lockwood | Real Estate Broker
Licensed in the State of Oregon
Oregon Realty CO
Experienced Portland Short Sale Specialist
The letter's closing statement may be a bold claim. However, my experience and long history of helping clients like you avoid foreclosure and have their mortgage debt forgiven stands on its own merit. As a Portland short sale Specialist, I've helped more people than competing Realtors. Call us to find out how my experience can help you too.
Realtors here to earn your trust,
Richard Lockwood, Realtor
Real Estate Broker Licensed in Oregon.