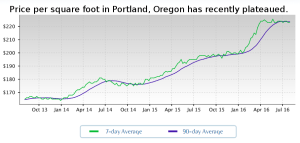 Home values in Portland, Oregon may have hit their seasonal high in August, 2016. Median list prices are hovering $519,000 with asking price per square foot plateaued at $223-. Days on market is also holding at around 59 days. The words "hovering" and "plateau" will likely be ubiquitous among conversations with Portland Realtors as we seek to explain the metro area's pattern of seasonal price fluctuations. In any event, prices and the local housing market can be described as hovering at a plateau currently and many believe this is indicative of normal, seasonal changes in housing market conditions.
Some market observers believe that the very recent past is a predictor of the future and feel that the housing market pause will be a brief period of flat prices followed by robust buyer activity; with the coming new year being punctuated by a large number of buyers with too few listings to choose from. In Contrast, the more pessimistic among us are asking how long prices can continue to rise and wonder if/when we could be back in an unstable housing bubble. There is no truly reliable way to predict the future so only time will tell which perspective proves correct. One undeniable fact is that Portland, Oregon is a prime moving destination and more people than ever want to call this city home.
Seasonal Housing Market Changes in Portland, Oregon
A quick glance at SP Indices Case Shiller Portland chart illustrates this "sawtooth" pattern where bullish price increases in stair steps based on buying and selling patterns. Much of the buying season follows two factors: A, children's school year and B, Oregon's seasonal weather. Realtors in Portland, Oregon have long known that spring and summer's longer days and warmer weather naturally bring out more buyers. Similarly, sellers would rather move in the warmer summer months and families usually seek to time a move to better coincide with their children's school year. Whatever the reason, our city's home values traditionally move in a seasonal manner and it makes sense that we're beginning to see the change in season have an effect.
Inventory of Available Listings Rising (But Still Very Low)
The number of available residential Portland real estate listings has been increasing of late. That said, Realtors helping buyers may not have noticed these upticks in inventory until very recently due to very strong buyer demand outpacing the supply of newly available houses. No one is certain how much more inventory will become available in coming months or whether demand from well-qualified buyers will remain strong. It could also be that strong buying in the spring of 2017 absorbs these new listings and we are again at record-low levels of available homes for sale in Portland, OR. Lastly, it's worth noting that even though we now have more available properties than in previous months that inventory is still very low even with recent increases.
Portland Realtors Serving You
Whether you're looking to buy or sell we are here to help you achieve your dreams and accomplish your goals. Throughout the entire Great Recession and into the now-blossoming housing recovery we have remained full time real estate brokers serving the entire metro area. Through hard work and dedication, we found success in the tough times and now we're here to serve you with our excellence in service and experience in the good times. Our winning track-record as buyer's agents, listing agents and Portland short sale specialists speaks for itself. Call now and we'll earn your business.