Closed Real Estate Deals in Portland Oregon
Today we're sharing some of our valuable housing market data with the public. This information is usually only available to industry professionals but we want to make sure our clients are well-informed and up to date on this ever-changing landscape that is the Local Housing Market. This data is derived from the RMLS market report from May, 2010 and shows all sorts of interesting facts about Portland Real Estate Listings and More!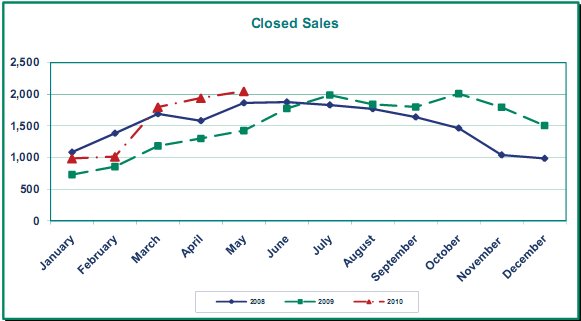 When we compared January-May 2010 with the same period in 2009, we found that closed transactions increased 42.7%. Pending deals also rose by 28.3% and new listings went up 10.4%. See the graphs and visual aids below and don't forget to check out our other real estate blog posts for other great information and news updates!
New Listings In Portland Oregon
The visual aid below illustrates the number of new to the market residential property listings over the past three calendar years for the Local Housing Market. For March, 2010, new listings came close to 2008 levels for the same month. Many experienced brokers strongly believe that this fact is much if not at least partly due to the impending end of the home buyer tax credit. Other factors include the seasonal nature of residential market trends.