West Linn | Wilsonville School District
Return To Portland School Districts
Return To Portland Communities Page
22210 SE Stafford Road
Tualatin, OR 97062
503.673.7000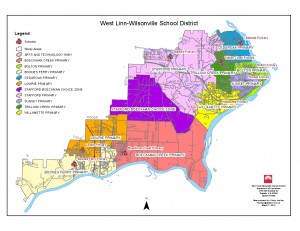 West Linn Wilsonville School District covers about 42 square miles. It serves parts of Portland and Tualatin, West Linn, and Wilsonville. Wilsonville School District includes 14 schools: 3 high schools, 3 middle schools, 7 elementary schools, and 1 charter school where there are about 8,400 students enrolled.
Learn more about Buying Portland Oregon Real Estate.
West Linn Wilsonville School District has a spectacular program called CREST (Center for Research in Environmental Sciences and Technologies) in which students improve their knowledge in sciences, wellness, and economics. Crest provides day and summer camps and allows students to learn how to work a farm and inform them about better nutrition.