"Spoopy" Halloween Humor For Portland, Oregon
What's the one thing spookier than words written in eerie letters styles like skeletons??? Well, misspelling "spooky" as "Spoopy" on a major consumer-goods manufacturing order seems quite a bit more scary to us; but maybe we're a bit too literal.
[expand title="Read More…" tag="p"]
In any event, autumn has arrived here in Portland, Oregon and everywhere people are decorating their homes, going to pumpkin patches and yes… even enjoying the now-ubiquitous pumpkin-based beverage. We here at Exclusive Portland Real Estate would love to offer some fun holiday pumpkin-carving tips to our readers for this festive time. However, after reviewing some of the greatest pumpkin carving fails on the internet we think the best advice for some people may be to just put the knife down. So, without further ado, we Realtors bring the people of Portland, OR our completely unscientific and biased opinion of the worst pumpkin disasters for Fall 2016.
[/expand]
Worst Pumpkin Carving Fails of 2016
Listed from least fail to most fail.. with a bonus "Win!" at the very end:
#8… Jeep? More like HEAP!!!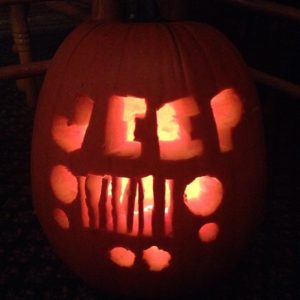 As so many often do, this pumpkin carving disaster started with the best of intentions.
[expand title="Read More…" tag="p"]
But, it appears that in this case this jeep-lover's good intentions led someplace scary. However, we salute the brave pioneer who made this "unique" creation and can offer our condolences by stating that Portland is laughing with you, not at you.
[/expand]
#7… Nailed It! Halloween Baking Fail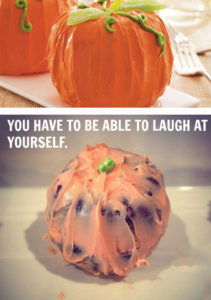 In Portland, OR we love our baked goods (especially when they're vegan and gluten-free). Anyway, this gem comes to us as an artistic baking adventure that went painfully awry.
[expand title="Read More…" tag="p"]
Don't get us wrong, we've all seen an example of cooking so simply and elegantly prepared that it appears easy and very attainable only to find out that it actually took all the patience and skill of a culinary-luminary. This is one such example and while we may be getting a chuckle we can definitely relate to this culinary conundrum. But hey, it might taste okay though… right?
[/expand]
#6… The Great Pumpkin blocks parkway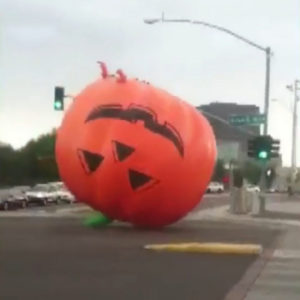 Charlie Brown of the famed "Peanuts" comic strip may never have actually found the "Great Pumpkin" with his pal Snoopy the dog; perhaps that's because the Great Pumpkin was too busy blocking people trying to get through this busy intersection.
[expand title="Read More…" tag="p"]
While this pumpkin is presumably mostly benign in that it's a lightweight balloon it may be a bit scary if you're the poor soul whose job it was to tie the pumpkin down. In summary, we're happy to report that Portland remains mostly free of Giant Pumpkins blocking roadways and maybe this is a selling point?
[/expand]
#5… Minion Mania, Can't This Fad Just Be Over?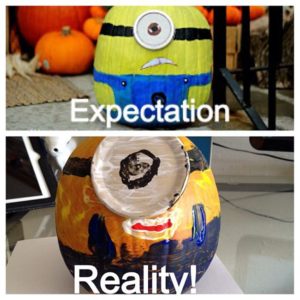 Expectation vs Reality. :/ Almost anyone with small children has heard of "The Minions"…. the cute and cringe-worthy henchmen born out of the Despicable Me franchise who have seemingly taken over the world through myriad movies and a countless bombardment of annoying product-placements.
[expand title="Read More…" tag="p"]
With the aforementioned in mind, it seems like anything having to do with the Minions may strike fear into any parent. We can say with certainty that this Minion creation is more an example of fan-dumb rather than fandom. Despite our protests, we're sure to see countless examples of Minions trick-Or-Treating around Portland neighborhoods this Halloween.
[/expand]
#4… We Love Cats, We Love Pumpkins… So How Did This Go So Wrong???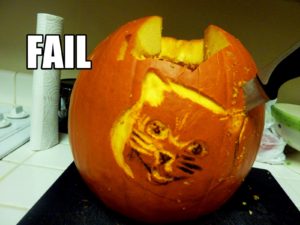 In Portland, Oregon we love cats almost as much as we love irony. So, maybe this pumpkin gets a pass because we couldn't help but chuckle and shake our heads when we saw this… thing.
[expand title="Read More…" tag="p"]
Maybe we'll give the carver the benefit of the doubt and say that the cat wouldn't sit still as a model for the pumpkin-artist to perfect their work. In any event, we got a laugh out of it and and it's definitely a Fail so it made our list at number 4.
[/expand]
#3… Doggo Helping, Face-Off!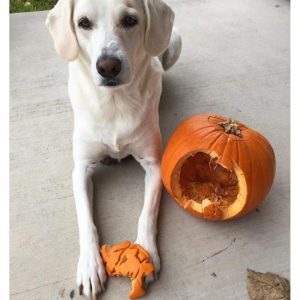 Our furry friends love to get into the Halloween Spirit…
[expand title="Read More…" tag="p"]
Or maybe just help themselves to some freshly carved pumpkins? We suppose this image should probably come with some sort of warning because it's kinda scary if you're a Jack-O-Lantern.
[/expand]
#2… Babies in Pumpkins??? Go Home Pinterest, You're Drunk!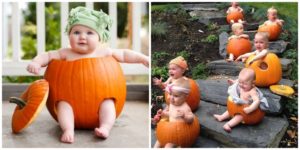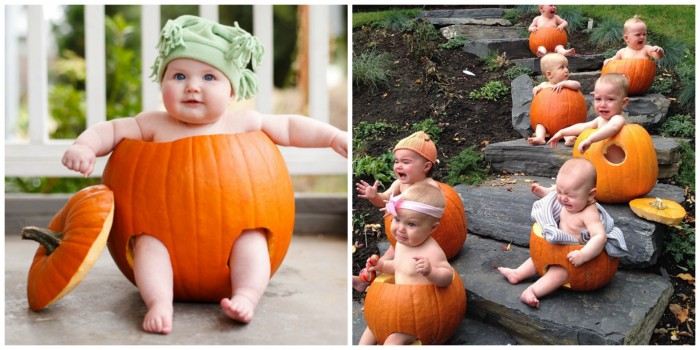 This is one of those things that seems like it might be kind of cute at first blush… until you realize that the inside of a pumpkin is slimy and miserable.
[expand title="Read More…" tag="p"]
Listening to babies cry because their parents put them inside of a pumpkin while trying to get that perfect fall photo-shoot might also make the parents involved miserable too. In any event, next year we'll likely see every pumpkin sold in Portland, OR come with a warning label stating that you're not supposed to put kids in them.
[/expand]
#1… Epic Pumpkin Fail! Stay In School Kids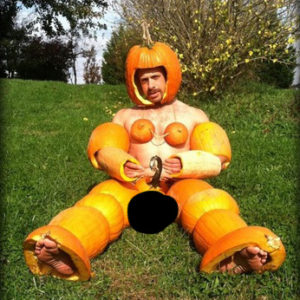 Perhaps this is what happens when you put your babies inside of pumpkins? It's time to end the madness folks. Well anyway, you've made it to number one on our countdown of the Not-So-Good, The Bad… And The UGLY and now we're here. There really isn't much else to say to this Halloween outfit besides just say no! Some of our more conservative readers may be blaming this catastrophe on Portland, Oregon's legalization of marijuana. In any event, thanks for reading and happy Halloween from Exclusive Portland Real Estate!