So you found the perfect home, now what? If you haven't found a home yet feel free to browse our powerful Portland Home Search Tools or simply give us a call and we'll be happy to help you find what you're looking for.
What Is Escrow?*
At the risk of oversimplification, escrow makes sure the seller gets paid and the buyer gets the house as outlined in the Real Estate Sale Agreement. A more detailed description follows. Merriam Webster defines an escrow as money or property held in trust by a third party to be turned over only upon fulfillment of a condition. In real estate transactions, a Title Insurance Company serves as this independent party; "insuring" that the buyer gets legal ownership of the property and the seller gets paid the agreed upon price. The Title Insurance Company also makes sure that the buyer receives the property unencumbered by old legal claims on the property such as unpaid mortgage(s) and also serves many other crucial tasks that protect both the buyer and seller in the sale & purchase (Title Insurance Details Here).
The Escrow Officer will oversee the process and make sure the buyer and seller sign the appropriate documents for the transaction and acts as a liaison between Realtors, buyers & sellers and their respective financial institutions. The following flow chart is provided by Rhonda Robinson of Fidelity National Title Company of Oregon Clackamas Branch: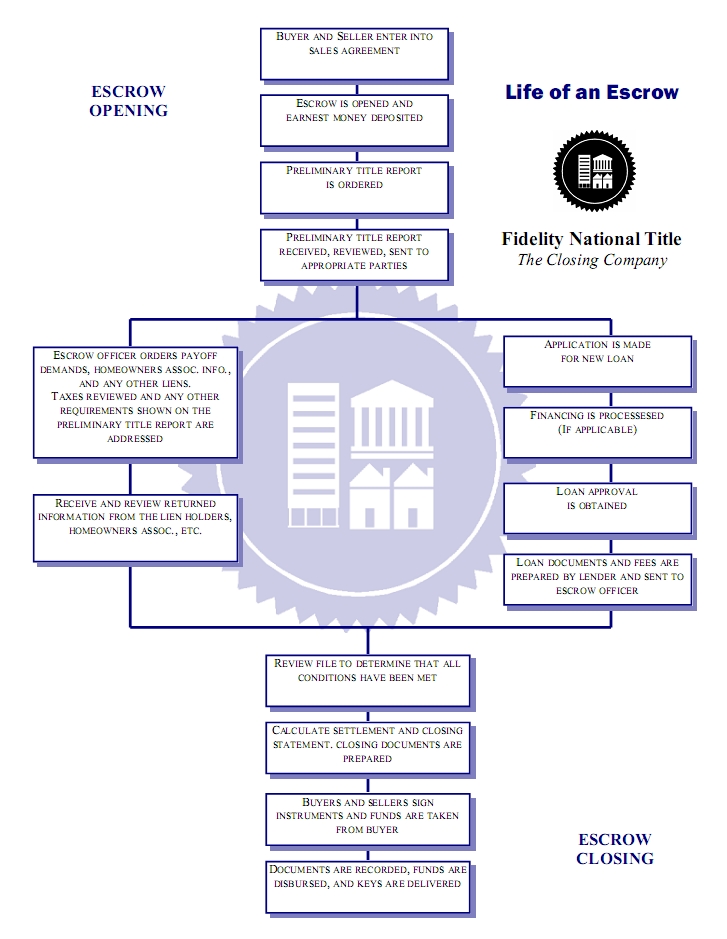 *The preceding is general information taken from various sources and should not be construed as legal advice. The reader should always seek out competent legal advice from an attorney in good standing if one is unsure of laws and how they affect a real estate transaction or financial decision.