Happy New Year to the Portland residential real estate market. And, now that February is coming to a close we're able to process the numbers for January of 2014 and the numbers look encouraging. Pending sales in January were up a whopping 36% compared to December. Similarly, average price for residential listings in Portland improved in January 2014 ($317,200) when compared to January 2013 ($287,700).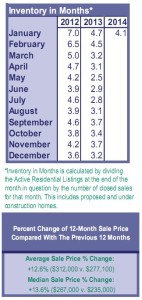 Portland Real Estate: Sold Home Prices Improve Dramatically
Year on Year average sold prices have improved 12.6% across the residential market whereas the median sold price increased by 13.6%. time on market has also decreased somewhat, which may indicate more buyers but may also be influenced by fewer short sales which can increase closing times dramatically. One of the most notable factors is the extremely low inventory of homes for sale; which was a factor in 2013's home value improvement. Inventory continues to be low much to the chagrin of bargain-hunting investors in addition to today's cost-conscious consumers.
Market Speculation Remains A Factor
Some Realtors note aggressive action from house flippers and other investors; who often seem very bullish on buying residential homes and condominiums for rental income or for short term sale. At times, investors may indicate that they intend to pay cash for a property when they in fact intend to acquire a hard-money, short-term cash loan to increase their buying power and leverage their position to greater effect. Some industry insiders question the wisdom of these tactics in that if there are more investors buying homes than actual consumers we may be looking at the Portland real estate market's next round of boom/bust economy. More cynical Realtors and home owners shake their heads and realize that history repeats itself much like the centuries old boom and bust that devastated Holland's economy and its Tulip Market. Concerns regarding aggressive investing aside, the market is showing encouraging signs and many home owners are now happily 'back in black'. In the black meaning no longer in the red, an accounting jargon saying that more home owners can sell their home and get a profit.
Price Improvement By Area: Portland Metro
SE Portland showed the largest price improvement at a very robust 18% appreciation of average sold price with Aloha / ton coming in at an extremely close second at 17.7% increase in average value based on sold homes. Under-performers included traditionally pricey areas including Lake Oswego / West Linn at a still respectable 9.3% improvement and West Portland bring up the rear at a still-tangible increase of 7.3% appreciation. Other areas such as Gresham kept up a respectable, medium improvement of 14.4% appreciation. All in all, 2013 was a good time to own or buy residential homes for sale in Portland, Oregon.
tors" width="450″ height="312″ class="aligncenter size-large wp-image-5369″ />