With the Holidays around the corner it's also time to think about some home improvement to make room. Whether you need to make room for Thanksgiving cookware like that must-have monster-turkey-fryer or a nice place to put Christmas decorations in the off-season, the right shelving choice can make all the difference. I like to pair the shelving system with the storage method, such as either clear or color-coded totes. Green/red for Christmas, yellow/black for Halloween and some other clever color I haven't thought of yet for Thanksgiving. Also, when thinking of shelving systems, it's important to think about how often you'll need to access these items. For stuff that's used frequently, easy access is crucial while for more rarely used or seasonal items having them out of sight and out of mind is a benefit. Lastly, I consider the relative mass of items to be stored. Very lightweight items may be stored up higher while that spare set of heavy holiday-themed dishes might not be the best choice for putting up on a top shelf.
DIY Storage Shelving: Above Garage Door Track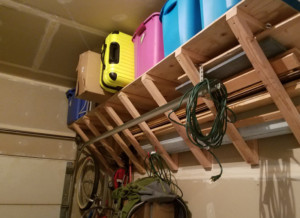 This home-made shelving system uses 2×4″ studs and 3/8″ plywood fastened together with 3 & 1/2″ wood screws and 1″ deck screws to affix the plywood sheeting. For added convenience, the garage door track support was modified to be incorporated into the shelf brackets for a cleaner install. This was completely unused space before these shelves went in so it's a great way to improve the usefulness of your home for sale or primary residence.
It's important to note that we are Portland Realtors, not construction professionals or building contractors so we cannot instruct the public on the exact process for building these shelves. However, if you feel inspired by this article I do not believe that anyone would stop you from building your own to suit your needs. To everyone in Portland, Oregon we wish you a Merry Christmas and Happy Holidays. For folks that do not celebrate Christmas we wish you a season of peace with your loved-ones.