Changing Lifestyles & How This is Affecting Portland Real Estate Values
In a nutshell, close-in neighborhoods with increased opportunities for human interaction and cultural experiences are becoming more popular. Whereas, outlying suburbs that are heavily dependent on transportation by car with less close-by amenities like local shops and entertainment are experiencing a decline in popularity. Real estate located in close-in neighborhoods with easy/fast commutes into downtown Portland have seen more dramatic real estate and rental cost increases when compared to outlying suburbs. Although the reasons for this shift toward more urban living may be self-evident to many, a more in-depth look at the factors that set the stage for this change is very interesting (at least, it's interesting to Realtors in Portland).
Looking to buy?
If you need to sell your existing home and upgrade or just looking for a close-in place to live we are the experienced team of Portland Realtors with decades of combined real estate experience in this city. We are real estate brokers licensed in Oregon and our clients come back to us for our knowledge of the city and our experience in helping people just like you achieve their dreams. We stayed in business full-time throughout the recession through hard work and better service; as our client you'll see what puts us ahead of the competition.
Portland Realtors Discuss: The Move to the Suburbs (and back)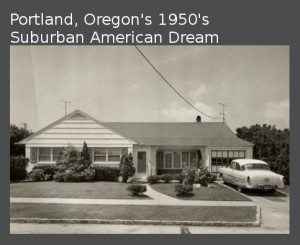 Previous generations sought to escape from inner-city urban life and the crime, congestion and pollution that sadly accompanies urban living and saw the suburbs as a welcome respite from the frenetic grind of big-city life. The 1950's and 1960's were something of a golden era for the dream of suburban living; every driveway had an automobile and plenty of cheap gasoline to commute. The 1970's brought with it the oil crisis and what could have been the first blow to the suburban-living concept in that transportation costs went up exponentially. In the decades that followed people would find that suburban life was not without drawbacks. Frustration over increased fuel costs, concerns over air pollution, long commutes through and heavy traffic all had a part in disabusing Americans of the suburban version of the American Dream. Not only this, but life in the suburbs became a little boring to some people who appreciate the benefit of living close to work, greater diversity of entertainment/food/culture, practical mass transit and the feeling of living "close-in". For the hip crowd, close-in living means thriving in a vibrant cultural epicenter where one can be a part of the unique evolution of local art and flavor. In a bleak contrast, the suburbs' long commutes, lack of pedestrian-friendly streets, cookie-cutter big-box stores and lack of progressive feel have very little to offer today's socially conscious millennials.
From Village to Suburbia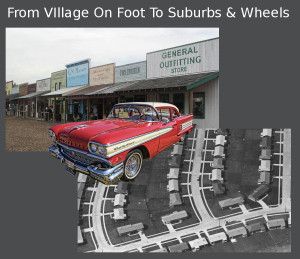 In previous centuries, villages developed around walking routes and train stations. Homes for sale were placed close together to better accommodate foot traffic and local businesses providing services thrived along routes with heavy foot traffic. As described in a recent article in Time Magazine, train station proximity and easy walking distance set natural limits on urban growth and provided a rich experience for residents with local commerce and plenty of opportunity for social interactions. The advent of affordable automobiles, single-use urban growth regulations and a post World War II housing shortage ushered in the era of the dream of the American Suburbs but also sowed future seeds for the ennui, teen angst and feelings of isolation that many people experience in suburban settings. In the wake of what turned out to be something of an unwitting suburban-living social experiment our cities are left with miles of large, single family homes where everyone uses a car for transportation; lack of community integration where many neighbors don't know each other and have decreased opportunity for cultural exchange were the unintended consequences.
The Revival of Close-In "Villages"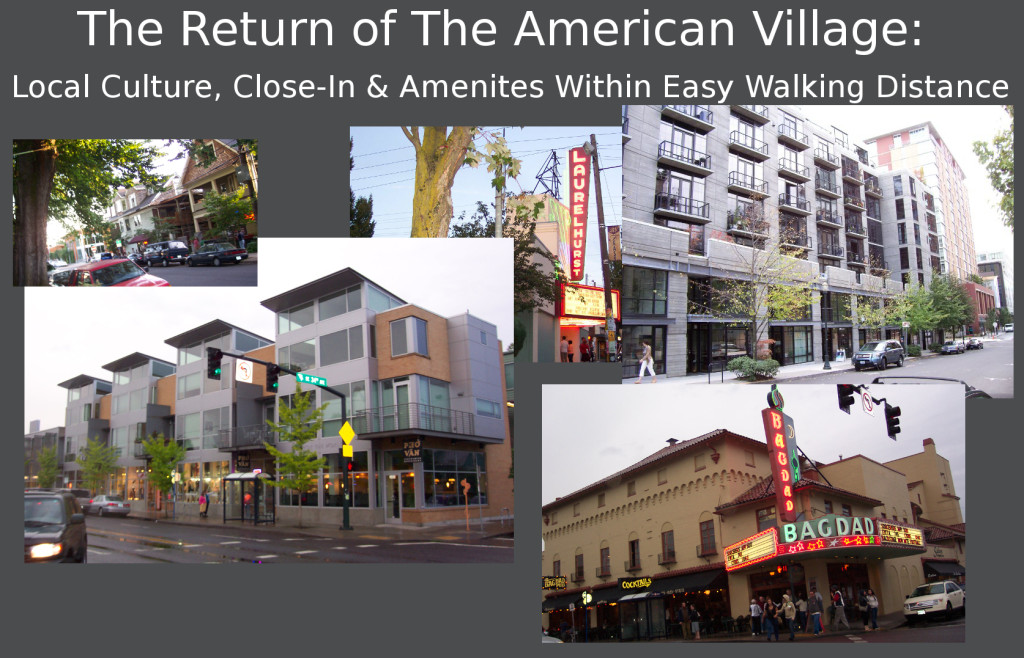 These complex changes in perspectives have led to an asymmetric change in home values, with Portland Realtors noting that homes with high walking scores and close-in bicycle-friendly commutes into the city-center becoming top selling points. Today's buyers want to be able to walk to independent restaurants, grocery stores and shopping while also having an easy commute to work as well. Homes with timeless designs or avant garde architecture are preferred over the more generic designs of the 1980's and 1990's. With these factors in mind, close-in Portland neighborhoods have experienced rapid and drastic gentrification while some formerly affluent outlying areas have seen an increase in low-income residents as gentrification forces working-class families and those in poverty out of close-in neighborhoods. These close-in, recently gentrified neighborhoods offer much shorter commutes into downtown Portland making these areas a big win for Professionals who often work long hours in an office. Home-buyers moving closer in to town are often freeing up over an hour per day in free time that was previously used driving to and from work.
Close-In Portland Real Estate
If you're ready to experience close-in Portland real estate and how our team of experienced Realtors can help make your dream home a reality call us now. As a buyer, it doesn't cost you anything extra to have your own personal team of Realtors on your side representing your needs. Our compensation comes from the sellers proceeds and if you don't use a buyer's agent then our pay goes into back into the listing brokerage's pocket. People who don't use a buyer's agent end up losing out on valuable representation and don't save themselves (or the seller) any money. Call us today to find out how our experience can help you and give you the power to make sound, informed decisions for your future of owning a home.