The recent volume of properties sold in Happy Valley has been upbeat with values increasing modestly followed by periods of settling during hints of downward pressure. Like much of the metro area, the number of active listings available on RMLS in Happy Valley remains stubbornly low. Unfortunately, this small increase in value has not been enough to help many distressed homeowners avoid a short sale or foreclosure.
Several factors are keeping real estate down including new appraisal regulations, new loan qualification standards and natural negative buyer sentiment to price increases. Upward price traction has been difficult at best with the amount of distressed properties being a key component in appraisal consideration.
CoreLogic Housing Statistics
CoreLogic of Irvine CA, a company that tracks each resale of the same house in the US, reported today a 0.3 percent increase for the month of November 2012. Nationally CoreLogic expects real estate values to increase about 6% in 2013 however Oregon did not make the top five states experiencing the greatest value gains. The report further states that house values are down 27% from peak 2006.
Happy Valley Market Action Index
This graph shows Happy Valley market action by volume as tracked by Ticor Title Company. Note the activity spike in November along with today's cooling off rhythm that appears to be similar to the 2008 recession. The question remains as to whether the recent events are signs of healthy market corrections or something worse. The summer 2012 to a halt at the state level which has (temporarily) dried up foreclosure inventory. Now that banks have moved forward to the Judicial foreclosure process the pipeline of REO properties could start to flow again; thereby adding much needed inventory to the marketplace.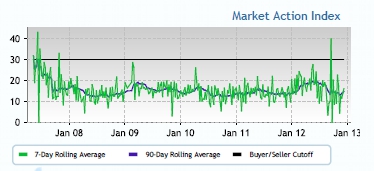 Real Estate Market Profile
demonstrates Happy Valley Homes have a market time of 202 days and growing.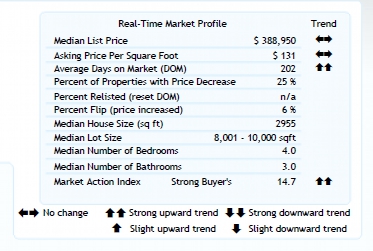 Characteristics per Quartile
Happy Valley is well known for newer, large well-appointed homes.


Price Trends for Happy Valley Oregon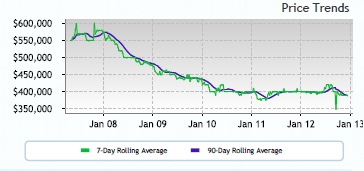 November showed strong results, with the question remaining; which way are things headed?