We're a local Portland, Oregon web development team specializing in IDX websites for real estate agents. IDX is the software that displays homes for sale on individual agent websites. In Response to evolving IDX integration needs, we've added both redirect as well as an embedding feature for our real estate web design services. Of course, we still offer native WordPress solutions that provide the absolute fastest performance for end users. But, for many real estate teams who already have a good website, simply using one of our convenient redirect subdomain options will provide their clients with an exceptional user experience that maintains their existing website.
Welcome to Portlandia Properties: Our Newest IDX Client
Check out their IDX Integration here.
The Portlandia Real Estate Team reached out to get IDX service embedded on their existing website. Their web designer appreciated our fast-loading pages and seamless integration into their current site design. Their previous IDX Provider was okay, but changes in web standards meant that the underlying software code was out of date. This outdated website coding was slowing down their pages; slow loading times is directly correlated with lost business.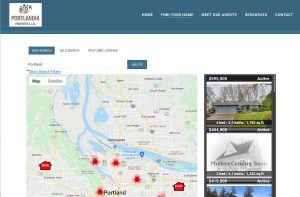 Real estate solutions from $499.00 / one-time
Home search for just $49.00 / month
503-473-8001 to get your agent website today
Why Does IDX Matter?
With national apps like Zillow, Redfin and Realtor.com taking center stage, some real estate agents question whether IDX on their own website still matters. The answer to this question is a resounding "yes, your website still matters." Your website is digital real estate that you own individually. Real estate apps and social media sites may be able to drive a lot of traffic, but only so long as the algorithms be ever in your favor. What happened to organic Facebook and Instagram traffic? Yes, that's right: they disappeared and were replaced by paid ads. Having your own website shows that you're a professional and is a sound means of social proof. When someone is thinking about listing with you, they're going to Google your name. By owning and maintaining a high quality, optimized website, you'll be sure that you show up on the first page for your own name. This is why IDX Portland Oregon still matters.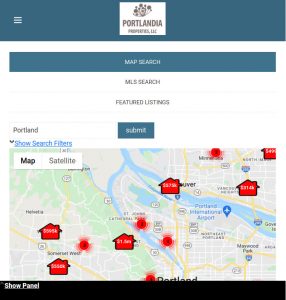 IDX Broker Websites Portland Oregon
The pandemic further cemented the need for everyone to take their real estate marketing online. With opportunities for in-person networking and farming completely shut down, your online presence may be the only way you have to meet clients and make a good impression. Sure, you can build a following on Instagram, Youtube or Facebook, but all of those platforms expect you to have a website to link back to. Where does your click funnel go? Agents know that buying or selling real property is usually the biggest financial decision a person makes. It's worth investing a little bit extra in yourself and your online presence. An IDX Portland Oregon real estate website isn't just a fancy showpiece, it's a social indicator that you are an established and trustworthy broker.
Real estate websites from $499.00 / one-time
Home search for just $49.00 / month
503-473-8001 to get your agent website today
What about organic search? While people generally "hang out" on social media sites, when things get serious most people still type a query into their favorite search engine. Having a high quality website with IDX puts you in a better position to do local SEO (Search Engine Optimization) to place better in your local area search results. Yes, the big searches have a ton of competition and those are probably best left to national sites and brokerages with huge budgets. But, you can still place better on some simple, local searches that clients in your area are searching for. Local SEO done through your personal website is still an excellent way to meet new clients. The best thing about organic search is that you're meeting people who are actively looking for your services. Unlike someone scrolling though cat videos, a person who types in "real estate agents Beaverton Oregon" is pretty clear about their intentions. That person will keep searching, clicking and calling until they find what they're looking for: make sure they find you.
But just having a website isn't enough anymore. You need a website that demonstrates your experience and expertise. This is where IDX comes in. Your personal brand on your personal website supported by elegantly simple home search software ensures that you make a good impression to prospective clients. First impressions matter. Having a website matters. Having a website that quickly and accurately loads MLS listings really matters.
Thanks for reading, and don't hesitate to reach out with any questions you may have about IDX Portland Oregon and what it can do for your business. Unlike national chains, we're local, independent software developers and we'd love to help you get the best possible IDX solution for your real estate business.