IDX is an acronym that stands for Internet Data eXchange that is used to supply real estate listings and homes for sale data for real estate websites. IDX enabled websites give agents a powerful way to market themselves to potential clients. In today's internet age, an IDX website will give you a way for your clients to browse properties and homes for sale on your own agent website.

The big players in IDX, Zillow & Redfin, make money by supplying IDX to the public, but there's a catch. Redfin and Zillow make money by selling the clients that they attract with their IDX via charging referrals fees to agents. This is problematic if you're an independent agent and don't want to split your hard-earned commission with an out-of-state billion-dollar corporation that is charging you money to serve clients in your hometown. Similarly, Social Media platforms like Facebook and Instagram are increasingly throttling down traffic to agents and charging agents pay-per-click in order to meet potential clients.
Real Estate Agent Websites: Portland, Oregon

So, as an agent you'd rather not direct your clients to a platform like Redfin or Zillow because those companies' business models are centered on selling leads and would happily charge a referral to send your clients elsewhere. On the other hand, your clients need a powerful real estate search engine so they can easily browse listings on their phone, tablet or desktop computer. Your clients will also demand a mobile-friendly map search that automatically pulls up listings based on their location. What you need is a mobile-first website that is personalized to you that offers all of these features while directing all client contacts back to you, instead of through Zillow's billion-dollar lead-generation machine.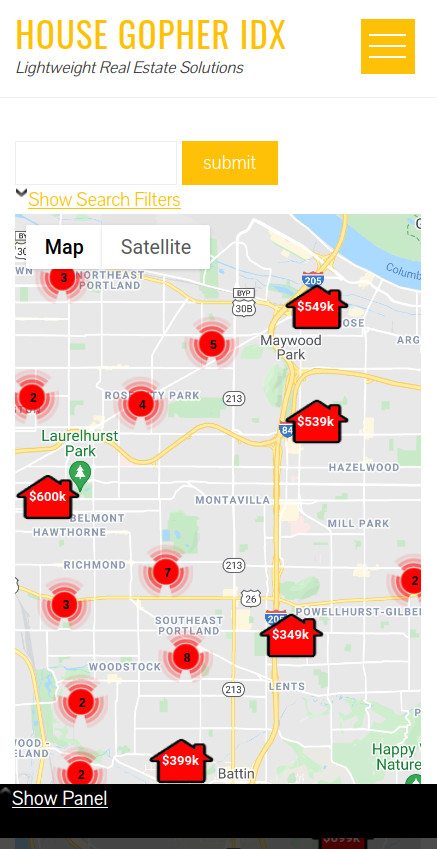 The affordable, local solution to all of these concerns is the HouseGopher IDX solution from A Better IDX, LLC. HouseGopher IDX works on the popular WordPress website platform, so it's highly customizable and has open-sourced code that will work with the world's largest collection of free website app called "plugins" in the world.
HouseGopher IDX websites are currently available for Realtors in Portland, Oregon, Southwest Washington and the surrounding Metro Areas.
Our Current IDX Service Areas:

Portland, OR
Vancouver, Wa
Battle Ground, Wa
Camas, Wa
Washougal, Wa
Beaverton, OR
Lake oswego, OR
West Linn, OR
Happy Valley, OR
Gresham, OR
Hillsboro, OR
Wilsonville, OR
Tigard, OR
Milwaukie, OR
Fairview, OR
Tualatin, OR
For areas outside of Portland metro please contact us and we'll see if we can expand to add coverage to your area.
What's it cost?
For $499 (one-time) and $49 per month for the IDX data subscription, you get this WordPress real estate site customized with your own images, text and contact details. We use WordPress because it's the most powerful web publishing platform on the planet and is not limited like proprietary systems (Wix, Squarespace etc). With WordPress you can edit your content, write as many blogs as you want and have as many pages as you want. With WordPress, you also gain access to the world's largest independent software plugin library as well.
Also, in the unlikely event that you cancel your IDX data subscription with us, you get to keep your WordPress site.
How To Order
Call 503-473-8001 and I'll get you on the web.