From the Article:
…will bad news from Wall Street and Asia rain on Portland's parade or will the distant rolls of thunder merely echo nay-sayers beating the drum of chimerical doom & gloom?
Despite recent upsets and a dismal start to the trading year on Wall Street, home-buyers in Portland, Oregon remain extremely bullish on the local real estate market. International issues such as China's burgeoning debt crisis along with foreign trading markets being flooded with newly available petroleum energy have led to record stock-market volatility; with many sources noting that the new 2016 fiscal year is the worst on record for many stock exchanges worldwide. In contrast, factors such as local job growth and strong demand for Portland's unique "Northwest" lifestyle mean that homes throughout the metro area are selling faster than ever and at higher prices than ever. The Standard & Poors Case Shiller Housing Market Index recently showed Portland as surpassed its previous market-peak in the previous, dubious housing-bubble. But, has tree city turned over a new leaf or are we risking a return to bubble pricing?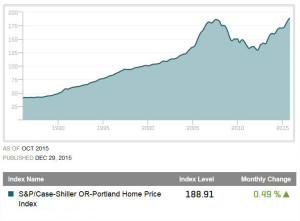 When the city of Portland's Case Shiller housing graph is compared against the national average Portland's extremely robust pricing rebound is beyond noteworthy. Our city's home-value recovery pace puts it in the rarefied company of prime real estate markets like San Fransisco and Seattle where housing graphs all show parabolic swings somewhat reminiscent of a Bactrian Camel's silhouette (that's the two-humped camel). The billion dollar question is this: will bad news from Wall Street and Asia rain on Portland's parade or will the distant rolls of thunder merely echo nay-sayers beating the drum of chimerical doom & gloom?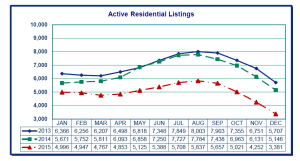 Portland Waxes Bright While International Markets Wane
Portland Residential Housing ended the 2015 year with increased December home sales, culminating in a beyond-noteworthy 21% rise as compared to December, 2014 closed sale figures. As an interesting footnote, the previous month marked the strongest December for real estate sold in Portland since the year 1992. Another factor fanning the flames of increasing home values is the fact that available residential properties on the market are at their lowest levels since the year 1999. Inventory of available properties is measured in "months of inventory" and provides a simple correlation between the number of homes for sale balanced against the current pace of closings. As such, "months of inventory" is a measure of market supply versus demand summed up in how long it would take to sell every home on the market at the current pace if there were no new listings. Right now, Portland's frenetic purchasing pace and finite number of listings means we only have 1.2 months of available inventory. This record-low inventory of available homes clearly illustrates the fiercely competitive market pressure that sellers are reveling in and buyers are fighting against.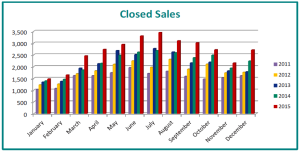 For "glass is half empty" perspective, the recent international economic summit in Davos, Switzerland has highlighted trouble-spots in the global economy. Examples such as China's economic decline and how China's reduced production has caused stymied demand for goods, raw materials and services worldwide. Some financial pundits already see faulty fundamentals in developing economies as having the potential to cause something of a Butterfly Effect on the United States financial well-being. And, how much more would that logic hold true when the "butterfly" in the analogy is a world superpower like China? The overall sense of foreboding from the Davos, Switzerland Economic Summit has been summed up as follows:
(China's) ascent hauled up much of the developing world, from Latin American exporters of soy and steel to the Asian workshops which became part of its gigantic factory supply chain. But its slowdown is whacking these countries equally hard. Exports from emerging markets – from Korean cars to Chilean copper – are declining year-on-year at the sharpest rate since the 2008-09 crisis, according to UBS.
SOURCE: Reuters
Even for the best minds in economics, it remains to be seen whether these far-off problems will come home to roost in our local real estate market or whether these seeming disasters will be remembered more akin to healthy economic corrections that are a welcome part of normal economic cycles. On the national level, there is real concern over how much longer the Federal Reserve can keep interest rates (and, by extension home mortgages) at or near such record lows. The Federal Reserve's repeated stimulus tactic of quantitative easing as a cure-all for America's economic hangover has left our country addicted to literally printing more money when we run out. Using the "hangover" analogy, this might be likened to a person going back to the bar to cure a hangover. So, while it is true that the judicious use of quantitative easing may relieve symptoms temporarily, most honest assessments would not call such measures a cure by any stretch of the imagination. In summary, The United States has spent its way out of the Great Recession and now some people are worried that such methods may not solve underlying issues.
Correction, Temporary Hiccup, Or Another Recession?
Only time will tell what the future holds for the World's finances and how this will affect Portland's robust economic growth. But, it will be interesting to see whether these factors will have a direct effect on consumer spending. Another question is whether consumers will be faster to react to future economic hardships by reducing debt and spending. And would consumers' faster, possibly exaggerated reaction make a possible double-dip recession worse or would such actions be enough to change our financial course. Home-buyers being priced out of housing markets and those with an eye toward long-term, sustainable economic progress may hope for a temporary slowdown of the real estate market so household incomes have a chance to catch up with housing costs. However, it is the author's opinion that if prices keep up their meteoric rise unabated and with a declining pool of eligible buyers at some point a future crash appears to be inevitable.
Thanks for reading and as always its important to note that as a Real Estate Broker licensed in Oregon I am not offering anyone legal or financial advice and this article is not intended to be used to predict future financial gains or losses. As such, please use the information presented as a springboard for further reading and consultation with experts as necessary.
Best Regards,
Richard Lockwood | Real Estate Broker
Licensed in the State of Oregon
Oregon Realty CO
12901 SE 97th Ave. Ste. 220
Clackamas, OR 97015