Dining, Shopping, or Sailing? The Johns Landing Neighborhood of Portland OR is very much like a resort and an exquisite place to live. With modern condominiums and beautiful hillside homes, Johns Landing (being just five minutes south of downtown) is a place where you can relax and play in comfort. Established small craft boating & sailing venues are the backdrop to this special PDX community. Specialty Shops line the town streets where you can find the perfect flying kite or your first surf board. At the end of the day enjoy a fine white tablecloth diner overlooking the Willamette River. Johns Landing is bordered by the Portland South Waterfront, Lair Hill, Hillsdale, Corbett, Terwilliger and the Willamette River.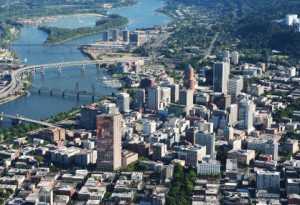 John's Landing | Local Info
Water Sports that include; Water Skiing & Wake Boarding, Dragon Boat building & racing, and Dinghy building & racing. The main boulevard is end to end specialty shops and eating establishments.
John's Landing |Local Parks
Butterfly Park; 7720 SW Macadam Ave.
Willamette Park; SW Macadam Ave & Nebraska St.
Cottonwood Bay; SW Hamilton Ct & Landing Dr.
Water & Gibbs Community Garden; SW Water Ave & Gibbs St.
John's Landing Neighborhood Association
The Neighborhood Association for Johns Landing is South Portland.
Johns Landing | Zip Code
97239 is the zip code for Johns Landing.