Living In The Laurelhurst Neighborhood
Laurelhurst Park community boasts its own park, a roundabout marking the center of the neighborhood and tree-lined streets throughout. Mature trees and landscapes contribute to the Portland Laurelhurst neighborhood being a friendly walker's haven. Bicycle commuting is a norm with bike-friendly express lanes and avenues. The historic Laurelhurst School is known for its rich turn-of-the-century architecture and being consistent in achieving academic excellence. The Laurelhurst Theater is a cultural icon that first opened in 1923 and is one of Portland's first Art Deco Theaters. Today, the theater has four auditoriums featuring classic and independent films while the snack bar serves up local Micro Brews, pizza & popcorn. Please contact us directly if you are interested in buying or selling a home in this area.
Laurelhurst School grades K-7 | Realtors information guide.
As Professional Realtors in Portland, Oregon; we know how important school information is to many home-buyers' decision-making process. Bear in mind that while we strive to provide the most up-to-date information, all School information should be verified prior to making a decision on purchasing a short sale or MLS listing.
School Address:
840 NE 41st Ave.
Portland, Oregon 97232
School Contact Info:
Office Phone: 503-916-6210
E-mail: kpinder@pps.k12.or.us
http://www.pps.k12.or.us/schools/laurelhurst
http://www.pps.k12.or.us/schools-c/profiles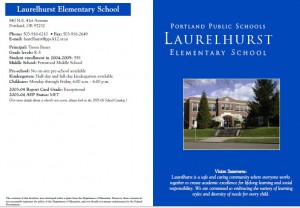 School District Boundary Map
Portland Oregon Public School Map of the Laurelhurst district.