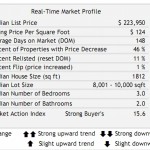 Milwaukie, Oregon Home Values for the first week in August are at a median of $223,950 based on the median asking price of active residential listings. That figure has been dropping as of late although asking price per square foot is rising. In contrast, average day's on market has been decreasing while buyer action has remained relatively stable. With some indicators going up and others trending down many industry insiders and Realtors believe that the market is exhibiting neither a strong upward or downward pull (however, Realtors, Brokers and Agents cannot predict future values or potential profits/losses so do your own research). Take a look at our updated homes for sale and housing market page to get the latest listings and market trends.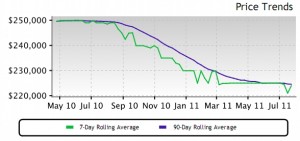 Milwaukie Oregon Housing | Short Sales and Foreclosures
For this week Milwaukie values may have seen a bit of a bump in price however the general trend has been generally downward. Supply and demand in terms of buyer's vs seller's market for Milwaukie, Oregon still definitely favors buyers. Most likely we'll need to see strong increases in buying activity in order to see prices change much. In today's fiscally conscious economy buyers are looking at short sales and foreclosures in order to save money and also to get more house for the same price.