Scroll Down for Mt Tabor Local Area Info
Real Estate Info for Mount Tabor Neighborhood. If you're looking to purchase a home in Southeast please call us to discuss our current inventory and new specials. Also, if you find yourself in a negative equity situation we have a number of excellent short sale programs.
Distressed Property Specialists

About Mount Tabor Neighborhood
The Mount Tabor Neighborhood of Southeast Portland is located on and around the extinct volcano from which the neighborhood gets its name. Defining features of many area homes include spectacular views of the downtown area or of Mt Hood depending on whether one is facing east or west. Locals enjoy walking to nearby shops, restaurants and a farmer's market in the Montavilla Neighborhood as well as being very close to popular destinations on Belmont Street and Hawthorne Boulevard. Old-Portland Style Homes sit within walking distance to scenic Mount Tabor Park; where locals go for a leisurely stroll or game of tennis. Antiquated Fir Trees set the mood for the Park and provide shade and a sense of connection with nature that residents of Portland have come to expect.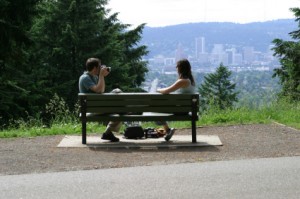 Mount Tabor Neighborhood Info
The western border is formed by SE 49th Ave (SE 50th Ave South of Hawthorne), with SE 76th Ave as the eastern border while E. Burnside and SE Division St make up its north and south borders respectively. The Sunnyside and Richmond Neighborhoods (Hawthorne District) are directly to the west of Mount Tabor, the North Tabor Neighborhood is located to the north and west, Montavilla to the north and east and South Tabor at the South.
Mt Tabor School District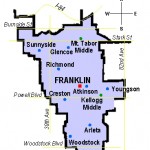 Mt Tabor is in the Franklin School District, for additional info click here.
Mt Tabor Geography
Mount Tabor stands at 636 feet in elevation whereas the surrounding region sits at around 200 feet. This extinct volcano comprises a section of the Boring Lava Field which is comprised of a mix of small cinder cones and shield volcanoes. These volcanoes have been extinct for around 300,000 years and were last active in the Plio-Pleistocene era. Portland, OR is one of only two cities located in the United States to have an extinct volcano within its city limits (the other US city is Bend, Oregon).
Mount Tabor Park
Mt Tabor Park is 196 acres (0.79 acres) in size and makes up a sizeable percentage of the mountain's total area. Declared a Historic Place by the National Registry of Historic places in 2004, there is some doubt as to whether Mt Tabor Park has ever been officially declared a "park" by the city. The nomination of the park to Historic Place status along with its reservoirs is thanks in large part to the noteworthy efforts of the Mt Tabor Neighborhood Association. The Historic Place Registry for the reservoirs was headed-up by Friends of The Reservoirs and bank-rolled by private money donations.