Home values in Oregon City and Milwaukie seem to have plateaued in recent weeks with, buyer activity slowly tapering off as we move from the busy summer real estate season into the cooling off period typical of autumn. For these Portland suburbs, average days on market has been trending upwards dramatically while at the same time the inventory of available residential listings in Oregon City have been sharply declining, while available listings in Milwaukie have only been mildly declining. At first, it seems like reduced inventory would stimulate the market and the truth is it may be, but only to an extent. However, if the supply of available homes for sale is declining somewhat and demand is dropping more dramatically then the balance may begin to shift in favor of well-qualified buyers. In the years following the recession we've witnessed double digit percentage growth in Portland metropolitan home values. And, it doesn't take a phd in economics to realize that our market cannot continue to appreciate at this breakneck pace without serious implications such as refilling a new housing bubble. The Federal Reserve appears to be phasing out economic stimulus such as quantitative easing aka printing and releasing more paper money out into the economy and this may be enough to slow down home value growth and allow other economic indicators such as employment and household income to catch up with property prices. If these other fundamentals don't catch up to Milwaukie and Oregon City home prices then the housing recovery may be a gilded statue built upon the proverbial feet of clay.
This Week's Oregon City Residential Property Summary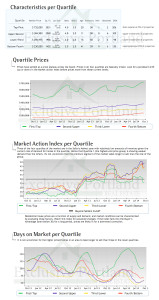 For this week, the median price of residential RMLS listings in Oregon City is at $330,000 while the average price is much higher at $457,757. The asking price per square foot of usable living space is also steeply on the rise at $167 per square foot. Top tier properties in this market are on acreage lots and fetch a premium while most of the properties are on standard neighborhood lots. Overall, there were 17 homes sold as compared to 20 homes newly listed on RMLS during the most recent 7 day period for which we have data. Oregon City housing inventory is sharply tapering off while buyer activity appears to be moderately lowering. At this time there are 33 short sale listings in Oregon City that are either active, pending or short sale pending ban approval. These figures are roughly in line with other areas on the East side of the Portland area.
Oregon City Housing By Quartile

Top/1st Quartile Homes in Oregon City, OR: Median listed price for the top 25% of homes listed in Oregon City is $732,000. With 3531 average square feet and acreage lots generally in the 5-10 acre range there's often room for horses, hobby farms and whatever else interests you. This category's $732,000 price tag explains why these properties have an average of 206 days on market. However, with one newly listed and 2 homes sold there is some movement in this 1st tier sector.
Upper/2nd Quartile Residential Property, Oregon City: Unlike the top tier listings on the market, 2nd quartile homes in Oregon City are on normal neighborhood/city lots which is reflected by the median list price of $384,900. These homes are still rather large at 2540 square feet though, and with an average age of being built 11 years ago these homes are newer and come with the associate modern, premium features. At only 105 days on market these 2nd quartile Oregon City listings are much more attainable for upper middle class families and as such they're selling faster. With 8 new listings and 6 sold in this quartile, we could see a few of the most expensive listings reduce their asking price but there's still activity in the market.
Lower/3rd Oregon City real Estate Quartile: Median asking value for Oregon City real estate in this quartile is at $294,975 for homes in the 1956 square footage range. Built 16 years ago, these homes are newer but not quite as up to date as their more expensive, somewhat larger counterparts in the 2nd price tier. with 2 newly listed and 3 sold these properties have demand which appears to be keeping up with supply. This is the fastest selling category for Oregon City by a slim margin at only 98 days on market.
Bottom/4th Residential Property Quartile in Oregon City: Aside from lower mean square footage (1452) the main distinguishing factor for these 4th tier, more entry level housing options is the year built. With an average building age of 41 years it's clear that buyers are trading an affordable price for more recently built. And, while this is bringing in buyers there appears to be more listings than the market can currently bear. With 9 new listings and 6 homes purchased with a mean 130 days on market we may see this category have mild listing price adjustments in the weeks to come.
This Week's Milwaukie, OR Housing Market Roundup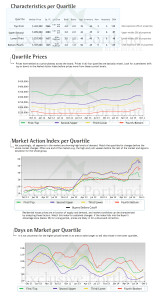 Median asking price for residential homes in Milwaukie, OR is currently $269,900 whereas average listed price is somewhat higher at $303,713. The market is sending rather mixed signals in Milwaukie as days on market trend up but the number of available properties listed is lowering moderately. While the market action index is shifting more toward favoring buyers, the numbers are still favor sellers for the time being, although a slow fall and winter real estate seasons could change that. Buying activity seems evenly spread across most of the housing market, with even buying occurring in all but the most costly Milwaukie real estate listings. New listings almost exactly match sold properties this week, but we may still be witnessing the tail end of the summer's busy buying season. Some slowing of the Milwaukie housing market is normal, seasonal adjustment but at times an exceptionally slow fall and winter can lead to prices settling more than a normal winter period can account for. Currently, there are 35 short sales in Milwaukie which shows that we haven't completely shaken the recession's hangover just yet. If you need a Milwaukie short sale specialist to help you sell your home call us to learn how our expertise can help you get a win-win short sale.
This Week's Milwaukie, OR Quartile Housing Information

Top/1st Milwaukie Residential Real Estate Quartile: The upper pricing category listings in Milwaukie, OR have a current median offered price of $432,500 with oversized 0.25-0.50 acre lots and around 2966 square feet. These high end Milwaukie homes
Upper/2nd Property Quartile in Milwaukie, Oregon: Price at a $289,000 median, these 2nd tier properties listed in Milwaukie tempt well-qualified buyers with 2080 mean square footage and oversized 0.25-0.50 acre lots. These homes were built 44 years ago on average and are generally spending about 87 days on market. With 6 newly listed properties and 6 sold listings this price category for Milwaukie property is in balance for the moment.
Lower/3rd Pricing Quartile for Milwaukie, Oregon Homes: Value priced at a median of $253,900, these homes offer a mean square footage of 1657 on standard neighborhood lots in the 8,001-100,000 sqaure foot range. This category has 6 sold listings against 7 new listings which is fairly close in balance. Perhaps reflective of average household incomes, at a mean of only 48 days on market Milwaukie homes for sale in this 3rd tier could be described as flying off the shelves.
strong>Bottom/4th Quartile Milwaukie, OR Homes For Sale: These entry-level starter homes in the bottom pricing quartile are the slowest selling category for Milwaukie, Oregon at this time. The old adage "you get what you pay for" may be at work with a median asking price of $187,000 and 1425 square feet generally featuring a 3 bedroom one bathroom layout. That said, with 5 new listings and 6 sold houses the bottom price quartile is showing activity. Perhaps as a reflex of people who are priced out of southeast Portland.
In closing, it appears that these relatively affordable suburbs of Portland are selling steadily in most categories but we could be starting to see seasonal slowing or a bit of price settling out. National economic policy, household incomes and the job market will likely dictate a ceiling where most buyers cannot afford to purchase above. We may be headed for a plateau for home values in and around Portland. Or, if values continue their dramatic rise then we could be inflating tomorrow's real estate bubble, if these prices aren't backed up by fundamentals such as increased wages and prosperity for working and middle class families.
This article is for informational purposes only and we cannot predict future profits or losses in real estate. Be sure to verify all information to your own satisfaction before making any purchasing, selling, or real estate investment decisions. As Realtors, we cannot offer financial or investment advice.
Best Regards,
Richard Lockwood
Real Estate Broker
Follow Richard Lockwood on Google+