We're keeping a close watch on the Portland Housing Market by using Pending Homes as a measure of localized economic conditions. Pending transactions* show us the most up-to-date picture of what home prices are doing as well as an idea of how many homes are being purchased. This is an important factor when considering real estate supply and demand.
*(Pending is defined as a deal that has yet to close, where buyer and seller have mutually agreed to all terms including price, closing date and other relevant terms).
When the buyer and the seller have fully agreed to go through with the transaction but certain conditions such as the buyer's mortgage, inspection period, or other aspects of closing have not yet been completed. The following visual aid shows the number of pending homes in Portland Oregon over the most recent three years.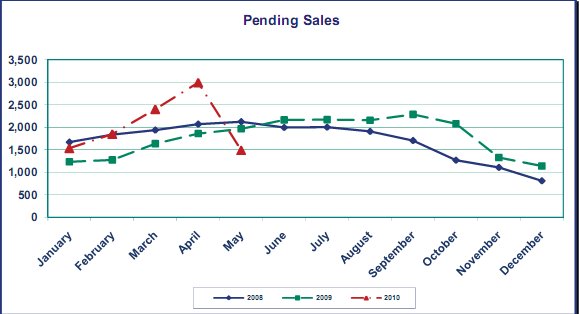 Portland Real Estate | Closed Deals
Closed sales are on of the main factors that Realtors examine when considering the housing market as a whole. This graph shows the closed real estate sales over the past three calendar years in the greater Portland, Oregon metropolitan area. Notice the amount of closed transactions in each year; 2010 has seen increases during the first three months compared to the same months in previous years. Short sales and foreclosures surely account for some of that volume, with very low prices being the main driving factor combined with buyers looking for the home buyer tax credit.