Portland, Oregon: Housing Quartile Data In Review
Real estate quartiles are a method of data review that takes all of the residential properties in a given area and divides them into groups organized by price percentile. As an example, if there were 100 real estate listings each quartile would have 25 properties each and represent 25% of the properties in an area. Quartiles are arranged by price so that the 25% of properties with the most expensive prices would make up the top quartile, the upper/second quartile is made up of properties in the 51-75 percentile group and so on. This quartile data gives a worthwhile window into the landscape of a housing market that offers more background than looking at gross sales or average prices in all quartiles together. As such, home prices may be dropping in the bottom/4th quartile and rising in the top/1st quartile. Also, data about how fast certain quartiles are selling and sold versus newly listed information can provide valuable insight into how a certain price range of homes are selling.

Top/First Quartile: For this week homes in the Top/First quartile have a median price of $929,000- with an average of 129 days on market. With 30 new listings compared to 35 listings sold it appears that there is healthy turnover and that homes in this top quartile are selling when priced right. These homes average 3,914 square feet and generally sit on lots in the 0.25-0.50 acre range. 4.0 bedrooms, 3.0 baths and a year-built date of 27 years old rounds out the average numbers for these top quartile Portland homes for sale.
Upper/Second Quartile:Residential real estate in the Upper/Second Quartile is priced at a mdeian of $529,900- and is selling at the fastest rate of any property quartile with a white-hot pace of only 61 days on market. With 77 sold listings compared to 68 new listings it shows that homes are turning over and buyers are very eager to lock down a nice place to call home. Average statistics of Portland homes for sale in this category: 4 bedrooms, 2 bathrooms, 36 years old, 8,000-10,000 lot square footage and 2,658 square feet of living space.
Lower/Third Quartile: Portland, OR homes in the Lower/Third Category have a current median asking price of $350,000 and are also selling at the very fast pace of an average 74 days on market. With an average of 3 bedrooms, 2 bathrooms, built 59 years ago and 2,000 square feet of living space homes in this category do offer a high level of utility for today's buyers. An average lot size of 6,500-8,000 square feet rounds out the statistics for these Lower/Third Quartile homes. There are 93 newly listed homes in this category balanced against 88 homes sold, making this the highest sales volume category with Upper/Second close behind.
Bottom/Fourth Quartile: Portland homes for sale in the Bottom/Fourth Quartile have a median price of $224,900- for current MLS listings in this category. With 1,350 square feet of living space on lot sizes in the 6,500-8,000 these entry level homes are still selling well at an average of 102 days on market; albeit at a slower pace than homes in the Upper/second and Lower/Third Quartiles. These Bottom/Fourth properties feature averages as follows: 1,350 square feet of living space on lot sizes in the 6,500-8,000 square foot range, 3 bedrooms 1 bathroom and an age of 59 years. With 78 newly listed homes compared against 81 sales this category's volume is fairly well balanced.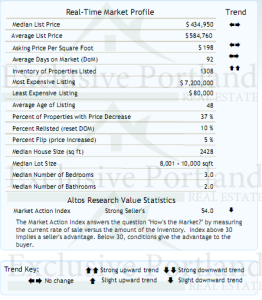 Listing Your Home: We'll Help you Get Top Dollar
In these times of a bullish Portland real estate market it's very important for home owners like you to capitalize on their investment. With the economic downturn in the rear-view mirror many sellers are breathing a sigh of relief and can now again look at selling for a profit. If this is your situation then you need a team of experienced real estate brokers who have paid their dues. We remained full-time, full-service Realtors through the entirety of the "Great Recession" by offering our clients industry-leading service along with a depth of knowledge that you just won't find in part-time or fledgling agents. Bruce Lockwood and Richard Lockwood know real estate and know the Portland market and we'll help you get top dollar for your listing.
Given the normal, seasonal housing market fluctuations we might well be at or very close to this year's peak and as such you may want to sell now before autumn transitions into the sometimes sluggish winter real estate market. Not sure what your home is worth? Give us a call and we'll set up a Comparative Market Analysis to help give you an estimate of your potential profits. Each neighborhood and property has unique pros and cons which is why a personalized Market Analysis is much better than an online automated value estimate.
A Note On Online Home Value Tools
Online pricing tools are a popular App with many of today's home owners however one needs to take into account that these online tools are not held to the same strict standards that Oregon Realtors and licensed Real Estate Brokers are held to. Often, these online home value apps seem to be inclined to deliver inflated values because it is in the app builders' best interests to pump up the numbers. These national & international Apps generate billions of dollars in revenue based on people clicking on "find a Realtor" links or "get more info" buttons on locally listed MLS listings. Certain companies are owned by out of state financial interests and don't know much if anything about local housing and simply market other people's listings and services and charge a percentage. With this in mind, it's worth noting that WE ARE Portland Realtors licensed as real estate brokers in Oregon. For the best in quality service Buy Local!
Portland Home Prices Plateau
It looks like the market has started to cool off a little, with increased inventory and days on market along with median and average Portland home values have leveled off at current figures of $434,950- (median) and $584,760- (average). Likewise, asking price per square foot has stabilized at $198-. Currently, Altos Research's "Market Action Index" has slowed down a bit in response to the plateau in prices however the index is still firmly in what's known as a "seller's market". If you've been wondering if now is a good time to sell then the answer may be a resounding yes; depending on your exact financial and housing needs. Prices have risen dramatically and now prices seem to have hit a recent plateau. given the time of year we might have seen most if not all of this year's increases in home values and there may be normal seasonal price settling as we transition into autumn and winter. No one can predict future profits or losses but the seasonal and cyclical nature of residential home prices in Portland, Oregon tend to indicate that we may well have hit the peak for the year.