Portland Real Estate Market Trends
Median asking price for MLS Listings has dropped to $274,900 corresponding with the noticeable drop in activity from well-qualified buyers. Often, the start of the school year tends to go hand in hand with home buyers and sellers settling in to the routines of school and work and this decrease in moving, buying and selling of real estate has a seasonal effect on the Portland housing market.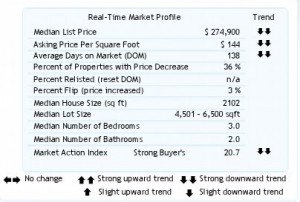 Housing Supply And Demand
Spring buyers came out in force earlier this year. Possibly due to relieved financial stress and an increase in financing options but also because the tide of foreclosures and short sales has put many former home owners back in to the increasingly competitive rental market. With a finite number of rental homes and apartments available this increased upward pricing pressure on rentals may be a factor that spurred many renters into purchasing a home with many home mortgages being cheaper than renting an equivalent property.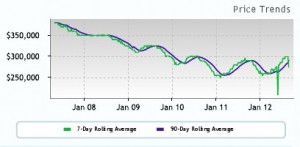 Home Values
If you need to sell your home contact us for the most up to date information and a Comparative Market Analysis that sheds light on what similar homes are currently selling for. Also, if you're buying it's very important for you to call us so we can show you not only the asking price for listings but also to see what houses have recently sold for. After all, we've all seen houses on the market that are overpriced and experienced Realtors as well as informed buyers want to avoid them.
We're Oregon Realty Co Agents and we look forward to helping you with your Housing needs: 503-473-8001