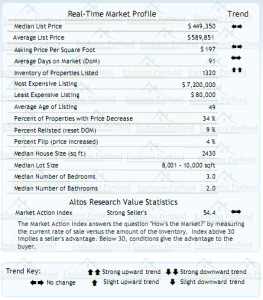 As of July 31th, 2015 the median list price for residential real estate in Portland, Oregon is $449,350 and showing a strong upward trend. In contrast, the average asking price is $589,851. There are 1181 property listings currently listed with 91 days being the average number of days on market. But, will this strong seller's market last? Or, as we eclipse the highs of the previous housing bubble, will the housing market be preparing for a pause, settling or new downturn? Current indicators show that this is a strong "seller's market" and market action is holding steady and inventory of available listings is also steeply increasing. These upward trends reflect the increased competition amongst well-qualified buyers trying to buy a home to live in before they're priced out of the market. Much like in the housing boom of the 2000's nervous buyers are very eager to purchase out of fear of getting priced out of the market.
And, with the last few years' steep increases in home prices buyers seem very justified in their concerns. Sellers are responding to these aggressive price increases and as such more current owners are becoming willing to list their properties. Homes in the middle two price quartiles are selling at a very robust pace with upper/second quartile homes with median asking price of $539,250 spending only fifty eight days on market while lower/third quartile homes priced at a median of $359,900 are spending an also low seventy two days on market. Overall, homes are selling in balance with newly listed properties and it seems that all listings that are in line with current market conditions are getting offers and selling in a very reasonable amount of time.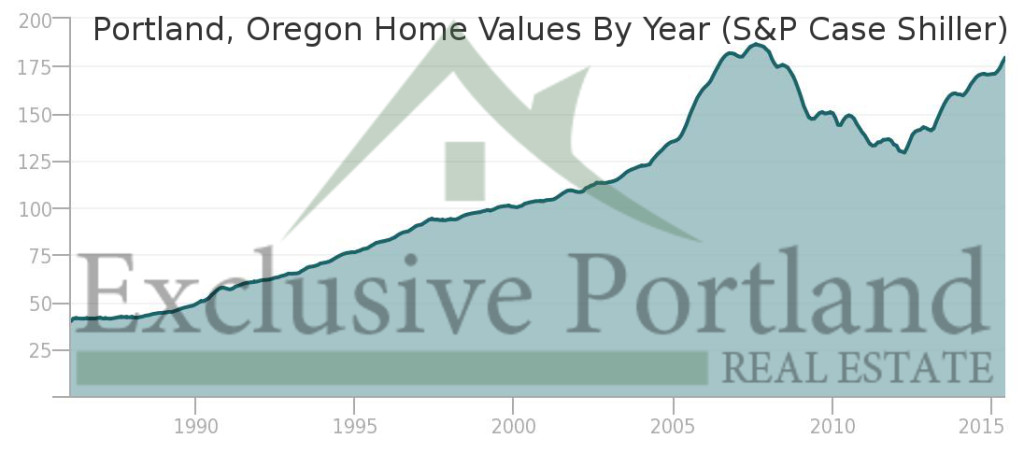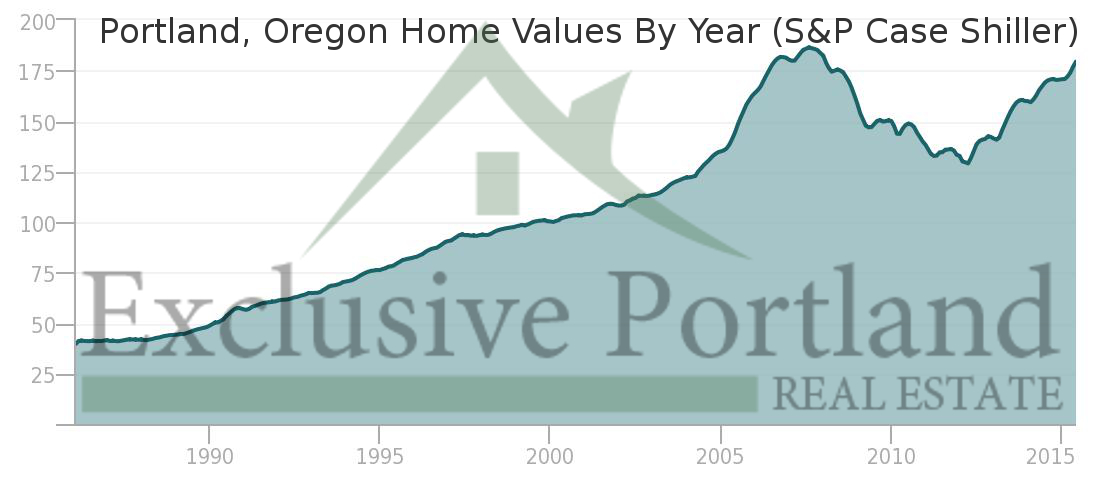 Portland Real Estate: What's My House Worth?
This is a very common question and as Realtors we can help Portland home owners answer the question for themselves by providing in-depth market data in a conveniently packaged CMA (Comparative Market Analysis). You may have heard of online home value tools but in our extensive real estate experience we've seen these values miss the true mark by six figures in many instances. And, while some may be tempted to start high and work down on price we've also seen times when overly-aggressive pricing soured buyers' opinions of the property and lost opportunities by being grossly overpriced. With the summer buying season in full swing now is the time to sell. And, because time is short starting too high may waste valuable time. As the weather (and market) cool off with the changing season the opportunity for sellers to get top dollar may well narrow somewhat. Also, there's always a chance that home values may settle a bit as the economy takes time to recover and adjust to these newer, higher housing costs.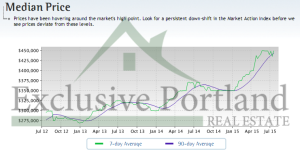 Could We Be At/near A New Peak?
As the housing market rebounds out of The Great Recession some may wonder if we've reached another market peak. Even the most casual glance at the Standard & Poors Case-Shiller Housing Index can see that home prices in Portland, OR are swiftly sweeping ever nearer to the levels seen just prior to the housing crash. As of May of this year the Case-Shiller housing value for Portland is at the level last witnessed in February, 2007 and when data for this summer is released few would be surprised if we are indeed back at our previous summer 2008 high mark. But, is this good news? And, what's changed about the economy that we can now support these new, higher prices? In some ways the economy has very much recovered but as a nation we are still haunted by the ominous specters of stagnant wages, baby boomers' recession-damaged retirements as well as a shifting international economic and political landscape.
While the Euro might be doing reasonably well for itself however nonetheless, Europe's bliss of bullish banking is beleaguered by abysmal broadcasts of Greece's frustratingly fractious financials. When all of these factors are taken together it may be that the United States' housing sector is due for at the very minimum a slowdown and at worst another bubble popping. The reality is that we just don't know. And, it may be this uncertainty about the future of housing that brings about a pause, cool-down, meltdown or bubble deflating. No one has the ability to predict the future but we can look to history to try to find clues to what may be in store. And, in the very recent history the world witnessed that the ostensibly "unsinkable ship" of residential home equity stumble and fall.
In closing I think it may be worth asking the following question: could recession-wary consumers cut and run from housing sooner and in greater numbers at the next sign of trouble and would that create something akin to a "run on a bank" that could result in a significant collapse?