Portland Real Estate Update: Overview
The residential real estate market trends have been generally somewhat negative with a few areas that seem to be more neutral, depending on the price and demographic. For Portland and the surrounding areas within this study it is noted that days on market are increasing (the rate of increase varies from slight to strong increase in days on market). While nobody can predict future profits and losses in Portland real estate, it's important to note that factors such as days on market can and do act like a barometer or weather-vane and can often be used to help get a sense of where the market may be headed. Similarly, the market action index which measures buying activity from well-qualified buyers has also been negative in Portland and in the surrounding areas included in this report. With market action being in a slight downward trend to a strong downward trend based on the area.
Bright Spots in Portland's Cooling Real Estate Market
Despite the overall cooling going on as the Portland real estate market prepares for fall, there are a few brighter spots which may be a reflection of holdout areas of strength in the market. For example Beaverton, Oregon is experiencing an overall cooling of the real estate market the lower two pricing quartiles are still showing strong sales. Which may indicate that buyers are eager to purchase a primary residence that's affordable and in the Beaverton neighborhood that they prefer. However, the upper two pricing quartiles within Beaverton are clearly showing signs of slowing down. The question for Beaverton is whether the strong buying of affordable homes will be enough to buoy the downward pricing pressure on higher end homes. This curve of buyer activity is also a stark reflection of home affordability as average and median household income are pitted against the cost of housing.
Another bright spot in the Portland Housing Market is a few of the pricing quartiles within the affluent and close-in Portland suburb of Lake Oswego. Lake Oswego's most affordable real estate quartile has been selling briskly whereas two of the other three quartiles showed increasing inventory and decreasing home purchases. The east side Portland suburb of Gresham is also showing stable home purchases in the affordable housing categories whereas more expensive homes in the Gresham area are being listed at a higher rate than such homes are being sold. Is action in the lower quartiles enough to prime the pump and spur sales of more expensive homes? Perhaps, if existing sellers are selling with the intent of buying a larger, more expensive home then the theory goes that those sellers will in turn make offers on new homes and put those funds back into the local housing market. On the other hand, those sellers who have been struggling to make their mortgage payment and have been finally lifted out of negative equity by increased home prices may be reluctant to buy right back into an increasing housing market. Some sellers may actually be tempted to downsize after selling their home. As such, we're seeing strong buying of affordable homes and a dearth of action on more pricy options.
Housing Report For Portland, OR
Median list price in Portland, OR for the previous week has been $359,000 while the average asking price has been at $477,087. Days on market is increasing (current level is 104 days). For the moment prices and inventory of available homes for sale have both remained static although continued anemic activity of purchases may start to change that. Stagnant prices and reduced market action in terms of purchases by well-qualified buyers may be a sign of seasonal slowdown present in a normal housing market or this could be an early indication of a flagging Portland real estate recovery. Many pundits have pointed out in recent months that residential real estate cannot continue to increase in price at the rates seen in the last two years without running a serious risk of refilling the house bubble. On the national level, the Federal Reserve appears to be phasing out tory.html">"Quantative Easing" by mid October and hopefully this will stabilize prices and stop the rapid growth and its associate housing bubble risks.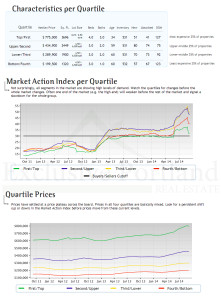 Portland Housing Data By Quartile

Top Quartile Homes For Sale in Portland, OR: Homes in this first pricing tier have a median MLS listings price of $775,000. Square footage averages 3696 square feet and these homes are situated on generous 0.25-0.50 acre lots. With 4 bedrooms and 3 bathrooms there's room for the whole family. There were 51 new RMLS listings and 41 purchased in this pricing tier with an average of 127 days on market.
Upper/2nd Quartile Property Listings in Portland: Priced at a median of $434,900, Portland homes for sale in the 2nd pricing tier have average square footage of 2449 on a much smaller lot size of 4,501-6,500 square feet. 3 bedroom, 2 bathroom homes that are an average of 59 years old typify this category. New inventory of new MLS listings versus purchases sits at 80/74 respectively. Homes for sale in this category are selling at a reasonable rate of 75 days on market.
Lower/Third Pricing Tier of Homes For Sale In Portland, OR: MLS Listings in the third pricing category are listed at a median of $289,900 asking price and offer an average of 1,900 square feet of living space and a lot size averaging out in the 4,501-6,500 square footage range. This price range usually gets you 3 bedrooms and 2 bathrooms and a property that's generally roughly 60 years old. With 70 new homes for sale and 73 sold in this price category things seem reasonably well balanced for the lower/third quartile in Portland, Oregon.
Bottom/Fourth Pricing Category of Portland Real Estate: Demand for affordable housing may be driving purchases in this category with 67 sold MLS listings versus only 57 newly listed homes for sale.
Lake Oswego Housing Market Update
Homes for sale in Lake Oswego, Oregon are currently at a median RMLS listings price of $689,900 while the average list price is at $983,482. Asking price per square foot is on the rise as is average market time (currently at 123 days on market). With days on market increasing, market action from qualified buyers decreasing, there's a good chance that the increasing asking prices on Lake Oswego real estate listings will plateau and possibly begin to settle. After all, fall and winter have not traditionally been strong real estate selling seasons.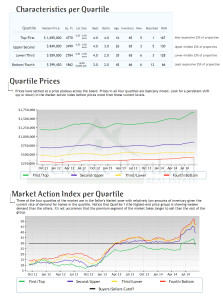 Lake Oswego Home Sales Statistics By Quartile

Top/Upper Price Quartile Info: Top tier properties in Lake Oswego are at a median list price of $1,695,000 and average 4770 square feet of living space on lot sizes averaging 0.25-0.50 acres. With 4 bedrooms and 4 baths on average there's room for everyone. There were 5 newly listed Lake Oswego properties as compared to one sold for this category.
Upper/Second Quartile Lake Oswego Homes For Sale: Homes for sale in this price tier have a median list price of $849,000 and average 3,499 sq ft of living space on 0.25-0.50 acre lots, 4 bedrooms and 3 bathrooms. With 3 new listings and 5 sold this category of Lake Oswego real estate seems to be doing okay for the moment.
Lower/Third Tier homes for sale in Lake Oswego: These homes average 2,784 square feet 4 bedrooms & 3 bathrooms with median asking price at $559,000. With 6 new listing contrasted against only 3 sold this category may start to see increased negative price pressure.
Bottom Quartile homes for sale in Lake Oswego, OR: Median list price of $399,450 and averaged 1,862 living space square feet for homes in the 3 bedroom 2 bathroom range have been selling well with 6 newly listed as compared to 12 homes sold in this category.
Happy Valley, Oregon Housing Report
For this week Happy Valley, Oregon housing has been trending downward somewhat in terms of market action. Buyers are becoming fewer and days on market amongst Happy Valley, Oregon homes for sale have been creeping up. The overall number of available homes for sale declining may not be enough to counteract the fact that the market action index is dropping while days on market are increasing. For the moment, median asking price for Happy Valley real estate listings is holding steady at $482,450 but it's very likely that these prices will settle if home buyers continue to make themselves scarce.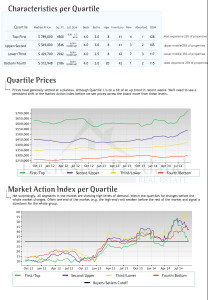 Happy Valley Real Estate By Quartile

Top/First Quartile Happy Valley Housing Data: Median asking price for top tier Happy Valley Homes for sale is at a current level of $789,000 which averages out to a 4,500 square foot home on a large 0.50-1.0 acre lot with 4 bedrooms and 3 bathrooms. With 41 available RMLS listings including 4 newly listed and only 1 property sold things may start to tip into the buyer's favor. However, at 128 average days on market real estate listings in Happy valley are stilling moving if priced right. Homes in this quartile are fairly new at an average of only 8 years old.
Upper/Second Property Quartile for Happy Valley: MLS listings in this category average 3,546 square feet of living space on a lot size of 8,001-10,000 square feet. Similar to top tier, these upper/second quartile homes usually feature 4 bedrooms and 3 bathrooms and average about 8 years old, which is reflective of the area's development. Selling slightly faster, there are were 2 homes sold and 3 newly listed out of a quartile inventory of 41 available listings. At 105 days on market this category is selling somewhat better.
Lower/Third Happy Valley Housing Quartile: With 7 new MLS listings compared to only 3 sold, the lower/third price quartile may be softening a little. The category's median asking price of $429,700 which gets you a house in the 2,942 square foot range and a lot size of 8,001-10,000 square feet. 4 bedrooms and 2.5 bathrooms typify the price range and in keeping with higher priced options the average age of homes in the lower/third Happy Valley quartile is also 8 years. Days on market sits at 117 with 42 available homes for sale in this price range.
Bottom/Fourth Quartile Happy Valley Homes: Listed at a median of $312,948 asking price and average statistics of 2,186 living space square feet (lot size 8,001-10,000) and 4 bedrooms 2 bathrooms. The main distinguishing factor for these entry level homes is that they are an average of 20 years old as compared to much newer homes being offered in igher price ranges. With 1 new listing and 2 sold listigns in the bottom fourth Happy Valley housing quartile there isn't much action either way.
Real Estate Report For Clackamas, Oregon
Mirroring the trends of the greater Portland metro area, Clackamas, Oregon is witnessing homes for sale greatly increasing in average days on market as well as increasing available inventory of real estate listings. Perhaps with a causal relationship, the market action index for Clackamas, OR is also trending downward which marks either a seasonal slowdown or a cooling off of the housing market in general. Prices remain generally flat at the moment and it appears that home values are awaiting a clear signal from buyers and supply/demand for a direction. Median list price for Clackamas remains at $348,995 for the time being but expect purchase (or lack thereof) in the coming weeks to drive values up or down.
Follow link for information about rural Clackamas County real estate.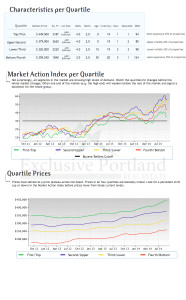 Clackamas, Oregon Real Estate By Quartile

Top price quartile residential properties in Clackamas, Oregon: Top tier properties for sale in Clackamas feature a current median list price of $449,500 and average 94 days on market. These top tier properties average 3,187 square feet of living space and lot sizes in the ballpark of 8,001-10,000 square feet. Four bedrooms, 2 bathrooms and 19 available MLS listings in this top price quartile. THese homes are usually new construction and price is influenced by features and trim level which the buyers select. With a total of 19 listings and one property newly listed and one sold there isn't much activity either way.
Upper/Second Tier Clackamas, Oregon Homes For Sale: property listings in this price range are listed at a median of $379,900 with 2,620 square feet of living space on lot sizes generally in the 4,501-6,500 square foot range. Like the top tier homes for sale, this price range is also dominated by new construction and also feature 4 bedrooms and 2 bathrooms. With 19 available MLS listings, 1 new on the market and 2 sold, the pace for this upper/second price range is slow but progressing steady. If sales remain strong in this category we may see an increase in newly listed properties come onto the market.
Lower/Third Housing Market Quartile: Clackamas, Oregon homes for sale in the lower third price range are listed at a median $320,000 asking price and are selling well with 3 sold which are perfectly balanced by the 3 homes newly listed on RMLS. Average age for property in this price range is 15 years. 2220 square feet of living space, 4,501-6,500 square foot lots and 4 bedrooms/2 bathrooms round out this category. With 19 available homes for sale in this category (and the upper 2 category) it may be that institutional sellers are dolling out homes for sale as they sell in an attempt to keep prices in their favor.
Entry Price Range Clackamas, OR Real Estate: Unlike other areas within the Portland housing market, the entry level homes for sale in Clackamas, Oregon are the weakest quartile for this suburb. With a median list price of $259,250 and only 1840 square feet of living space with 3 bedrooms & 2 bathrooms. It seems that many buyers would rather spend just a bit more money and buy into a larger home that's half as old in one of the higher pricing categories. With 3 newly listed Clackamas homes for sale and only one property sold we could see settling prices in this lowest quartile. Echoing this prediction is the fact that these entry-level homes are taking over 25% longer to sell with 124 days being the average marketing time.
Best Regards,
Richard Lockwood
Real Estate Broker
Follow Richard Lockwood on Google+