Real Estate Market Report For Portland, Oregon & Surrounding Communities
With Portland, OR and many of its surrounding suburbs seeing average time it takes residential homes for sale to sell increasing the market appears to be slowing down. This is not surprising given the fact that we're reaching the end of the busy summer buying rush and moving into the usually slower paced Portland real estate market typical of the fall and winter months. Uncertainty remains as to whether what we're witnessing is nothing more than the normal, seasonal price fluctuation seen amongst homes for sale in a healthy economy or if these are early signs of a general softening following the very robust price increases seen post-recession. If you need to sell your home or if you have questions for a Portland short sale specialist please call us immediately.
Portland Homes For Sale: Market Report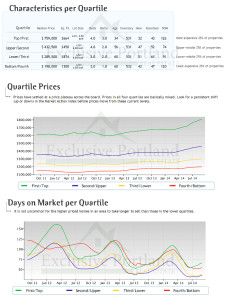 For the first week of September, 2014 Portland residential homes for sale have been resting at a median asking price of $350,000, with an average market time of 103 days. The market action index is deflating somewhat while the inventory of available RMLS listings offered for sale is steeply increasing. Purchases of properties by well-qualified buyers appear more or less evenly distributed across the property price quartiles (with a slight advantage in terms of units sold going to properties in the lower-third quartile at a median listing price of $289,500).
For Portland, Oregon the top price quartile has a median listing price of $759,000. These top tier properties average 3664 square feet and sit on generous 0.25-0.50 acre parcels. 4 bedrooms, 3 bathrooms with an average age of 34 years old. With 32 new listings and 43 sold in this top pricing category it appears that well-heeled buyers are willing to make purchases. The upper second price quartile comes in a a median listing price of $432,500 and average 2,450 square foot homes on 4,500-6,500 square foot lots featuring 4 bed 3 bath. Properties sold versus new RMLS listings are almost perfectly balanced in the upper second tier with 47 newly listed and 52 sold in this demographic, with an average of 74 days on market this is the most briskly selling quartile in the Portland, Oregon real estate market. The lower third quartile has a pricing median of $289,500 for ~1874 square foot homes with an average 3 bed & 2 bath on 4,500-6,500 average lot size. With 51 new listings and 61 sold in this lower third category and 91 days on market the lower third quartile seems fairly well balanced. Bargain shoppers are naturally drawn to the bottom fourth quartile with its median of $198,000 while these value priced homes for sale offer modest square footage averaging in the ~1,300 square foot range with 3 bed 1 bath. With 120 days on market and 47 sold and 42 newly listed it appears that there is still a demand for these smaller, entry level real estate listings.
It should be noted that there is a wide range of neighborhoods within Portland proper and any discussion of statistics concerning square footage and home values will be greatly affected by neighborhood. Check back with us frequently for more blog posts pertaining to housing market action and as always this article in no way seeks to predict any future value.
Beaverton, Oregon Housing Update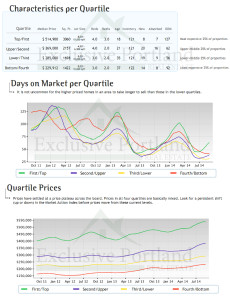 Beaverton, Oregon real estate listings are resting at a median of $325,000 on RMLS with an average of 84 days on market. Inventory of active homes for sale in Beaverton is rising while market action from strong buyers may be flagging of late. Market action slacking and inventory of available Beaverton real estate may be a harbinger of coming price reductions if these trends do not abate. Local Realtors speculate as to whether these trends are merely seasonal price fluctuations seen in a healthy economy or if they spell trouble down the road. Increasing prices have reduced the numbers of distressed properties listed by local short sale specialist teams but the price increases have led to many property owners who had been waiting to choose to list their homes for sale.
Top quartile real estate in Beaverton fetches a median list price of $514,900 with average statistics of 3060 square feet, 4 bedroom, 3 bathroom with an average year built of 18 years ago. These top tier properties sit on the market an average of 127 days and with 7 sold compared to 8 new listings. Upper second tier properties are listed at a median $369,000 and offer buyers an average of: ~2157 square feet, 4 bedrooms, 2 bathrooms, 21 years old with 16 sold versus 20 newly listed in this category. The lower third tier is listed at $285,000 median with an average: 1698 square feet, 3 bed & 2 bath, with 19 newly listed balanced against only 9 sold. The bottom priced homes come in at a median of $229,912 asking price with average home statistics of ~1422 square feet, 3 bd/2ba, with 92 days on market.
Looking at these statistics the storm cloud appears to be the disparity in the lower two pricing tiers where new listings come close to doubling the rate that homes are actually selling. Time will tell whether this balances out or if this will in turn lead to increased competition amongst sellers and lead to price reductions. The other bit of info is the steeply increasing days on market for top tier properties in Beaverton, Oregon's real estate market.
Lake Oswego, Oregon Real Estate Report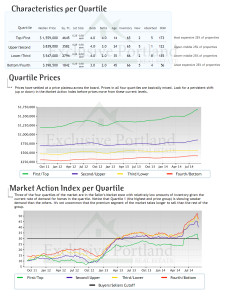 This week in Lake Oswego residential homes for sale sit an a median list price of $687,450 and spend an average of 121 days on the market. Average days on market have been trending up steeply while inventory is dropping on average (some price tiers have increased inventory though). Market action has been slumping as of late and if this trend continues in its current rate we may well see downward pricing pressure in the Lake Oswego housing market. The high price of luxury homes in Lake Oswego may tend to skew the numbers as a whole, with homes over a million dollars selling at a much faster rate than they're being listed. In sharp contrast, homes in the $800k range are being listed much more frequently than they are selling while the lower third price tier properties are selling much faster than they are being listed.
Top tier properties have a median $1,559,000 listing amount and offer average statistics as follows: 4645 square feet, 0.25-0.50 acre lot size, 4.0 bed/4.0 bath, age 14 years, and 173 days on market. Upper second price tier properties are at a $839,000 median rmls listing price with averages of: 3582 square feet, 0.25-0.5 acre lot size, 4.0 bedroom / 3.0 bathroom, built 24 years ago, and average days on market of 122. Lower third tier Lake Oswego homes for sale have been the most robust in terms of sales with 8 homes sold versus 2 new listings. This lower third pricing category has a median rmls listing price of $547,000 and statistics averaging: 2,794 square feet, 0.25-0.50 acre lot size, 4.0 bed/2.0 bath, built 35 years ago, and 135 days on market. the bottom fourth pricing quartile feature median of $398,500 for Lake Oswego real estate listings with an averaged out: 1842 square feet, lot size at 0.25-0.50 acres, 3 bed/2bath, built 45 years ago, with 56 days on market.
These mixed signals illustrate the stratification within the Lake Oswego housing market and increase the difficulty of accurate market predictions. As always we cannot predict future profits or losses in real estate and those interested are encouraged to examine their specific price tier for data. It's also worth noting that a weak market in lower quartiles can negatively affect upper quartiles as this affects people's ability to sell and trade up.
Gresham, Oregon Housing Market report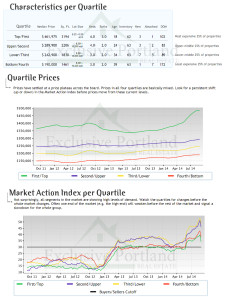 For this week residential homes for sale in Gresham, Oregon have a median RMLS listed value of $259,900 and remain on the market for 112 days on average. The latest data indicates that marketing time (days on market) is on the rise while at the same time available inventory of Gresham real estate listings is dropping. Fewer listings taking longer to sell may be an early sign that prices may settle in the coming weeks. In step with these trends, the market action index is also settling down a bit too. And, while it's still considered a seller's market continued softness in terms of buyer action and increased market time could start to change that.
New Gresham real estate listings have outpaced sold listings in all price quartiles except the bottom fourth pricing quartile. This may indicate that cost-conscious buyers are competing for smaller & older homes common to this category in order to economize and maintain affordable living costs Median list price of the bottom fourth properties is at $190,000 with averaged features as follows: 1,461 square feet, 3.0 bed/2.0 bath, age 39, new listings in category 1 / sold in category 7. Conversely, top quartile Gresham homes for sale come in at average listing price of $461,975 with features averaged at: 3,194 square feet, 4.0 bedroom / 3.0 bathroom, age 18, new listings in category 3 / sold in category 1, and days on market 102. Upper second tier Gresham real estate is coming i at $289,900 median listing with average features coming in at: $289,900, 2,206 square feet, 4.0 bedroom / 2.0 bathroom, age 24 years, homes newly-listed/sold in price range 3/2, and average days on market 83. The lower third price category is coming in at ~$242,900 with ~1,830 square feet, 3bd/2ba, age 34, newly-listed/sold 7/5, and 89 days on market.
Happy Valley, Oregon Housing Update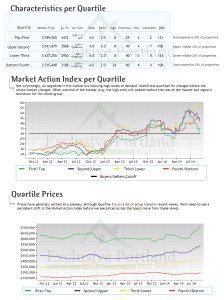 The median asking price for Happy Valley real estate listings for the first week of September is $485,000. Most indicators for the Happy Valley real estate market appear more or less flat of late, with days on market dropping (positive) while at the same time market action from well-qualified buyers is also decreasing (negative). These mixed signals may mean the Happy Valley housing market is in a holding pattern. However, if the slump in market action continues we could see downward pressure on home values become a factor once again. Whether we are experiencing a normal seasonal housing slow-down or a faltering recovery remains to be seen.
Top price quartile properties in Happy Valley, Oregon have a current median list price of $789,000 and averaged statistics as follows: 4472 square feet, lot size of 0.50-1.0 acres, 4 bedroom / 3 bathroom, built 8 years ago, newly-listed/sold 4/2, and 131 days on market. Upper second quartile homes for sale in Happy Valley, OR have a median list price of $541,875 with averaged numbers: 3568 square feet, 8,000-10,000 square foot lot size, 4 bedroom / 3 bathroom, built 8 years ago, newly-listed/sold 4/7, and 100 days on market. For the lower third price quartile average list price comes in at $427,250 while average square footage in this bracket is 2950. lot size is 8,000-10,000 square feet and homes in this category average 8 years old. For this lower third category there have been no new listings and 5 of the existing listings have sold; average market time is 124 days. The bottom fourth price quartile has a median RMLS listing price of $315,448 with an average of 2186 home square footage and lot sizes averaging 8,000-10,000 square feet. Bedrooms and bathrooms are at 4/2 for the lowest pricing tier in Happy Valley, Oregon while the homes average age is 24 years old. Inventory in the bottom price category is balanced at 4 new listings and 4 sold listings in the last measurement period.
In closing, it appears very possible that the Portland real estate market is at or nearing the end of its seasonal run and it remains to be seen whether we're seeing seasonal price adjustment or a more widespread market and home value correction. Stay tuned for our next real estate update where we'll examine whether these trends are continuing or not. As always, as Portland Realtors we can't predict future profits or loss and while we strive to provide our clients with the most accurate information available you are encouraged to do your own research to verify all facts contained herein. None of this article is intended to be legal counsel and it is also certainly not financial advice. If you need help with short sale or buying/selling Portland real estate don't hesitate to contact us. Again, we wish you all the best in your real estate or home buying endeavors and we can't wait to earn your business through our superior service.
Best Regards,
Richard Lockwood
Real Estate Broker
Follow Richard Lockwood on Google+