Portland Oregon is home to national renowned entertainment and performing arts. Many famous artist are from here and derive inspiration our wonderful city. The area is filled with great theatres and entertainment for you to enjoy. Many national broadcast TV shows have been filmed in Portland Oregon including Leverage and Under Suspicion.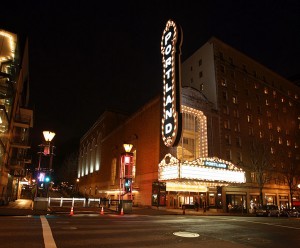 Like most large cities, we're proud of our wide range of performing arts institutions including the Oregon Ballet Theatre, Oregon Symphony, Center Stage, Baroque Orchestra and of course the Opera. It also has quite a few stages similar to New York's Off Broadway or Off-Off-Broadway such as Center Stage, Artists Repertory Theatre, Miracle Theatre, Stark Raving Theatre, and Tears of Joy Theatre. Portland Oregon hosts the world's only HP Lovecraft Film Festival at the Hollywood Theatre.
Portland Oregon is home to famous bands such as The Kingsmen and Paul Revere & the Raiders, both famous for Louie Louie. Other widely known musical groups include The Dandy Warhols, Everclear, Modest Mouse, Pink Martini, Sleater-Kinney, The Shins, Blitzen Trapper, The Decemberists, and the late Elliott Smith. The city's Satyricon nightclub is also well-known for being the place where the late Nirvana frontman Kurt Cobain and rock musician Courtney Love met each other, eventually marrying (much to the dismay of people who have ever seen or heard Courtney Love).
Portland is home to widely recognized animators include Matt Groening (The Simpsons) and Will Vinton (Will Vinton's A Claymation Christmas Celebration), and filmmaker Gus Van Sant (Good Will Hunting (1997), Milk (2008)). Actors from Portland include Sam Elliott and Sally Struthers. Dan Steffan, cartoonist-illustrator for Heavy Metal and other magazines, lives in Portland Oregon.
Recent films set and shot in Portland Oregon include Extraordinary Measures, Body of Evidence, What the Bleep Do We Know!?,The Hunted, Twilight, Paranoid Park, Wendy and Lucy, Feast of Love, and Untraceable. An unusual feature of our local entertainment is the large number of movie theaters serving beer, often with second-run or revival films. A notable example of these "brew and view" theaters is The Bagdad Theater and Pub.