Portland Oregon currently has 13,805 + – active residential homes on the RMLS.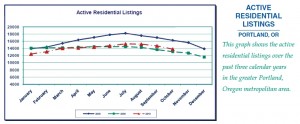 Metro Area | New MLS Listings
New MLS listings compared to one year ago is down -9.4% and are up +4% over last month.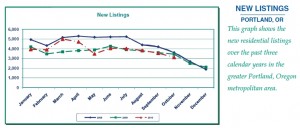 Portland Oregon Active Residential Properties Back on Market (BOM) to Reset DOM
18% of this months current MLS listings are simply re-listed homes.
This 18% represents home owners usually at the Realtor's request of a resetting of DOM (Days On Market) or removing the home and immediately re-uploading it in an attempt to cover the fact that it isn't selling and reset the DOM statistic and breathe fresh air on what Realtors and industry insiders call a stale listing.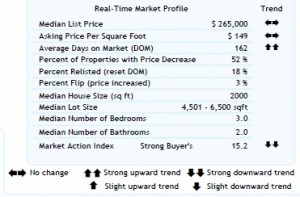 RMLS Months of Inventory
10.7 is the number of months it would take to sell all existing listings at the current rate of sales with no additional inventory being added. Many industry professionals consider 5.5 months of inventory to be a balanced market. 10.7 months of inventory suggests that Portland OR is experiencing a buyers market.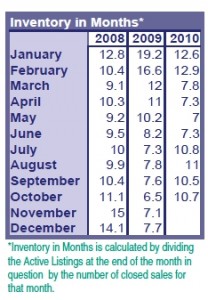 Days on Market (DOM)
The number of days on the market for Portland OR home this week stands at 162 days and 131 days on the market of the Portland metro area.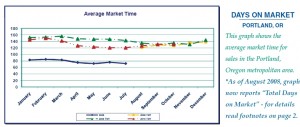 Portland OR Shadow-Inventory
Shadow-inventory are those homes that have been repossessed and are either in the process of being listed or are being held back by the banks so as not to flood the market with additional inventory. Banks choose to not sell foreclosed homes in order to keep prices from falling even more based on the principle of Supply and Demand. It is hard to determine how many houses are held by each individual lending institution but the number is substantial. In fact banks have slowed the rate of foreclosures by extending the number of months they allow home owners to fall behind on mortgage payments before they issue recorded NOD / NOS notices. This tactic provides a guard against further price deterioration of currently listed houses. Without supporting factual source documentation AP News articles in the last 60 days suggest a 2 year supply of bank held shadow inventory nationally.
Portland OR Active Listings Absorption Rate | Closed Home Sales
Closed sales of Portland OR homes are down -35.7% from one year prior.
Closed sales are down -7.7% from last month.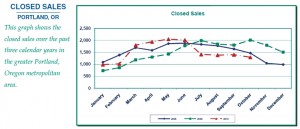 Portland OR Pending Sales
Pending sales are down -21.5% from a year ago today
Portland OR Flipped House Listings
3% of the homes for sale are investor flip houses and are re-listed at a higher price than purchased for a short time ago.
Portland OR Home Price Trends
Price Trends dropped sharply this week and continue on their three and a half year downward trajectory.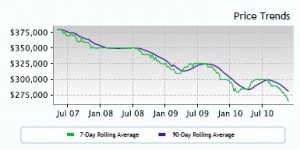 RMLS Listing Price Decrease
52% of listed homes on the Portland OR RMLS have executed a decrease in price.
Median Sale Price of Portland OR Homes
Portland Metro tri-county median price is $233,500 down from $245,000 one year ago while the median asking price of Portland proper homes is down -4.7% to $265,000 from one year prior.

Average Sale Price of Portland OR Homes
The average Portland OR home sale price is down -3% to $278,000. Do not confuse average sale price data with size of homes being purchased as it does not address the original purchase price of the home or the pre-crash value of the home. The average cost per square foot is an indicator as to time value. In Portland proper the asking price per sqft is $149. Some of the suburbs of Portland are struggling to maintain $100 per sqft. The average sale price is what people have spent on a house no matter how big or small that house may be.

Portland OR Home Loan Interest Rates
Conventional Loan Interest Rates prior to the national elections were at 3.8% for 30 year fixed with 20% down payment and have since gone up to 4.5% for 30 year fixed with 20% down payment as of this week. FHA home loans with 3.5% down payment on a 30 year fixed rate is standing at 4.25%. These appear to very favorable fixed mortgage interest rates. Interest rates change by the hour and only a qualified mortgage lender can quote an interest rate. This data is not an interest rate quote.
Buyer Strength of Portland OR Buyers
The financial strength of active buyers in Portland OR this week remains in a double negative reading of "strong downward trend".

Notice of Default and Notice of Sale (NOD/NOS)
The number of NOD/NOS notices sent to home owners in the Portland OR area this week was 240.
A Notice of Default is a recorded notice to the home owner from a bank or lenders trustee that the lender has the intent to sell at auction the subject property within 160 days.
A Notice of sale is the subsequent or second recorded notice to the home owner from a bank or lenders trustee that the lender has the intent to sell at auction the subject property within 30 days.
Statistical data and charts of this report are courtesy of
RMLS Portland OR and Ticor Title Co Portland OR
All information is deemed reliable but not guaranteed and should be verified.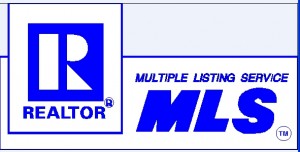 Short Sale Specialist
We are the Lockwood Team of Realtors that specializes in the Short Sale of Portland OR homes for clients that are experience financial hardship. The Lockwood Team of Realtors operates under the supervision of Oregon Realty Company, is Oregon's Largest Independent Real Estate Firm established in 1949. We are proud of our long term heritage and commitment to excellence.
Short Sales Portland
There are many misconceptions about short sales. When a short sale is executed properly there are many benefits to and for the seller of the house and there are no Realtor fees to the seller for our services. Some lenders offer seller assistant money payable to the seller at the close of the house sale. There are rarely carry back notes, or deficiency judgments on unpaid balances of the actual mortgage debt. Our Realtors conduct an Open Market Sale of the house. We do not participate in any snake oil transactions. We do not sell the house to this guy or that guy; we market the house through RMLS and on the internet to procure an offer that is acceptable to the lending institution.
Portland Pre-foreclosure Homes for Sale
A Pre-Foreclosure sale of a home is known as a short sale even in the event the seller may have equity in the subject house. Due the fact that a NOD / NOS notice was recorded with the respective county it is required that NOD / NOS notice be disclosed by the licensed Realtor to any and all potential buyers. Often pre-foreclosed home sales are short the amount needed to pay the mortgage note holder in full. The fact that the sale entails a shortage of the mortgage debt amount owed must be disclosed and is also known as a short sale as well. Both instances are short sales.
Editorial Disclaimer
The content represented in the editorial below is sole opinion of Bruce Lockwood Licensed Realtor and not the opinion of or a representation of Oregon Realty Co, RMLS or Ticor Title. This is not an attempt solicit a real estate sale or offer or contractual agreement. This editorial is not an attempt to forecast future profits or losses.
Portland Realtors Editorial
It is my opinion that no amount of government spending on housing rescue programs with tax payer's money will fix the housing market. Is the Market fall over? Have we hit bottom? It is against federal and state law for me to address that specific question. You will have to discern that on your own and you might consider the historical market data and charts above. I am a Realtor that specializes in short sales for Portland Oregon home owners that are caught in a volatile housing market. If you are in need of Short Sale Realtor Services please give us a call so that we can address your particular concerns directly with you.
Bruce Lockwood Real Estate Broker licensed in the state of Oregon.