Portland Oregon Realtors
When industry professionals examine the economy of the housing sector; we often use a measurement known as "Inventory In Months". Basically, Inventory in Months is the total of home on the real estate market divided by the number of closed homes for sale transaction for a monthly period… The resulting number shows a measurement of real estate Supply & Demand. The idea is that inventory in months will tell you how long it would take to sell all of the homes for sale at today's sales volume. Basic supply and demand; supply is all of the available residential properties and Demand being the number of homes that buyers have purchased.
Home Values | Local Economic Outlook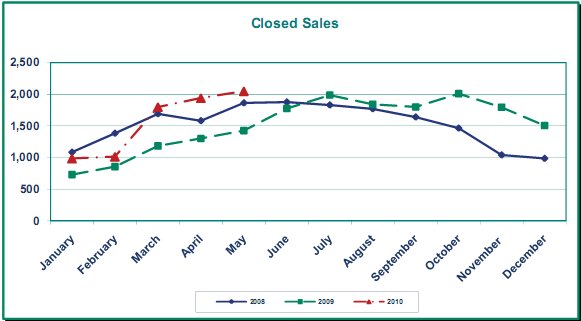 Industry professionals are quick to point out that one can easily see the strong connection between sold properties activity in the housing market during May 2010 when compared to the same time last year, May 2009, closed deals increased 43.7%. Pending transactions and new listings both decreased by 24.1% and 10.2%, respectively. When we look at the market data month-to-month and compare May 2010 to April 2010, closed deals grew 5.6% (2,050 v. 1,941). Conversely, pending transactions fell 50.1% (1,493 v. 2,991). New residential listings also dropped 26.2% (3,482 v. 4,713). At the month's rate of market absorption, the 14,372 currently active residential properties would last approximately 7 months, the lowest that residential housing inventory has been since August of 2007.