The Portland Real Estate market in 2010, December continued the trend of decreased activity toward the end of the year. That being said closed transactions were at the highest monthly level since June. Portland Homes For Sale were also in demand in that unsold inventory was at a low not seen since June. Closed transactions were down 2.9% compared to December 2009, while pending deals rose by 6%. New RMLS listings were down 8.5%. From November to December the quantity of closed deals rose from 1,279 to 1,462 (14.3%). However, pending sales fell from 1,426 to 1,210 (-15.2%), and new listings dropped from 2,437 to 1,925 (-22.2%). At the month's rate of sales, the 11,611 active residential listings would last about 7.9 months, a 2.3- month drop since November.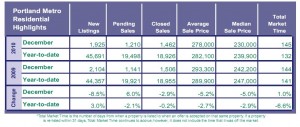 Portland Housing Market (2010)
When comparing activity in 2010 with that of 2009, the Portland Housing Market witnessed closed sales dipped 0.2%. Pending sales were 2.1% lower, but new listings were up 3.0%. Total sales volume for 2010 was $5.3 billion, down from $5.5 billion in 2009.
Residential Property Values
The average sale price for December 2010 declined 5.2% compared to December 2009. The median sale price also fell 5%. Month to month, comparing November 2010 to December 2010, the average sale price went up from $271,900 to $278,000 (2.2%) while the median sale price dropped from $233,000 to $230,000 (-1.3%). For 2010, average sale price dropped 2.7% compared to 2009, and median sale prices fell 2.9%.