For the summer of 2016 the Portland real estate market has been defined by extremely low inventory of available homes for sale and stiff competition among buyers eager to find a place to live. However, record home values have not completely wiped away the relevance of Portland short sale specialists in that underlying financial difficulties such as slow wage growth, underemployment and rising living expenses puts many household budgets under duress. Furthermore, higher real estate prices often entail higher monthly mortgage premiums which add increased pressure of possible mortgage default during times of financial strain. During the height of the recession, short sales were commonplace to the point of being ubiquitous and it's important to note that increased home values has moved many mortgage defaults out of short sale into a positive equity position.
Case Shiller Housing Data: Portland, Oregon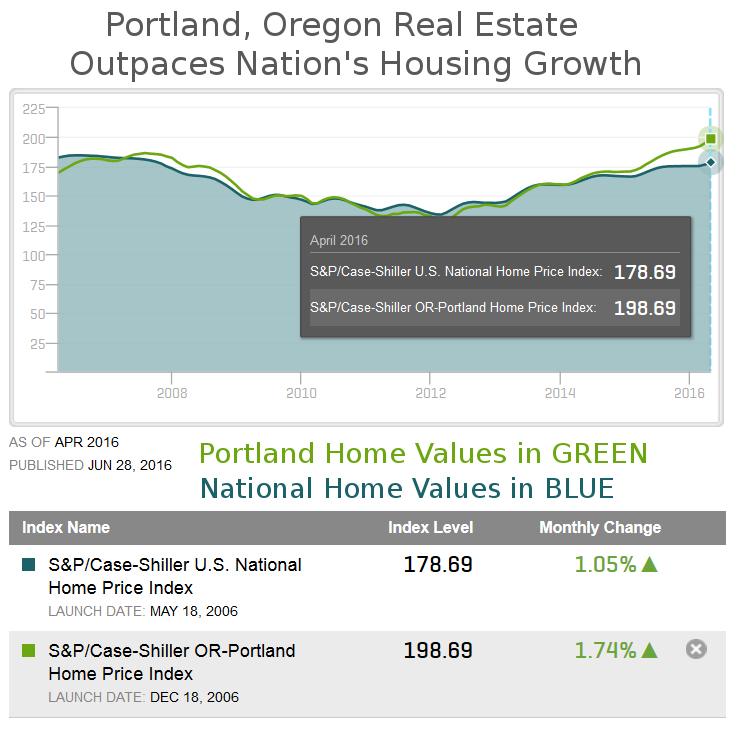 Portland, Oregon homes for sale are among the leading housing markets in the country in terms of appreciation. Low inventory due to an influx of people moving into the area may be exacerbating our current issue of increasing housing costs while at the same time pressure is being applied via ever-increasing cost of rent. Inability to find rental housing or lack of affordable rentals is pushing some into the ranks of home-buyers. Realtors are witnessing this upward pricing pressure lifting many mortgage defaults out of short sale however there are still a significant number of properties weighed down by looming late fees and other financial penalties. While Portland is among the front-runners in terms of increases in home prices there are a few cities across the US experiencing a housing boom. Other US cities at the forefront of increased real estate prices include Denver, Seattle and San Fransisco.
Despite these highly appreciating cities, most of the rest of the country is seeing much slower, more sustainable home values. Probably the biggest concern with increased home values is the decreasing portion of the population who can afford to buy a home. The recent swift increases in PDX home values begs the question of what will happen when no one can afford a place to live anymore. Will more affluent transplants simply push those with more moderate incomes out of Portland entirely or will increased housing costs push the local housing market into unsustainable bubble territory?
Financial Markets: Will Wall Street Fears Destabilize Portland Real Estate?
Realtors around Portland, OR have uncertainty as to how these persistent financial storm clouds might affect our local housing market. Despite stock prices rebounding to all-time highs following the dip that punctuated the "BREXIT scare", there remains a troubling and lengthy hangover among publicly traded companies known as the earnings recession. To be fair, the good news in the American economy is probably cheap oil. But, is that enough to keep us afloat? Or, will housing descend back into the quagmire of negative equity culminating in new rounds of short sales and foreclosures. CNNmoney recently pointed out the strange features of this dearth of corporate profits and how it is odd to be prevalent in a time of a growing American economy. Stalled corporate earnings cause investors to view stocks as potentially overpriced and many pundits (including Federal Reserve Chief Janet Yellen) fear that stock markets are at record high valuations. High valuations meaning that investors may be paying more for shares that might not be worth the extra money in the long-run; which (to Realtors working with buyers) sounds much like the state of Portland real estate.
Perhaps in an eerily similar way to stocks on Wall Street, some home-buyers in Portland, Oregon are expressing similar frustrations to their real estate agents regarding paying more but getting less. Homes in almost every Portland neighborhood are being bid up past asking price by buyers desperate to find a place to live. Formerly gritty neighborhoods in North & Southeast Portland are quickly becoming too pricey for home-buyers with solid incomes and down-payments saved up. Even more so, home buyers are also feeling the trickle-down effect of the corporate earnings recession; with many wage-earners feeling passed-by on pay raises. Some local business seems to be doing well however, with acupuncture & naturopath Portland services noticing a solid and committed client-base. Record-high Portland real estate prices, fear on Wall Street and both corporate and household earnings largely in the doldrums might all be harbingers of the return of short sales and foreclosures.
The "Wild Ride to Nowhere"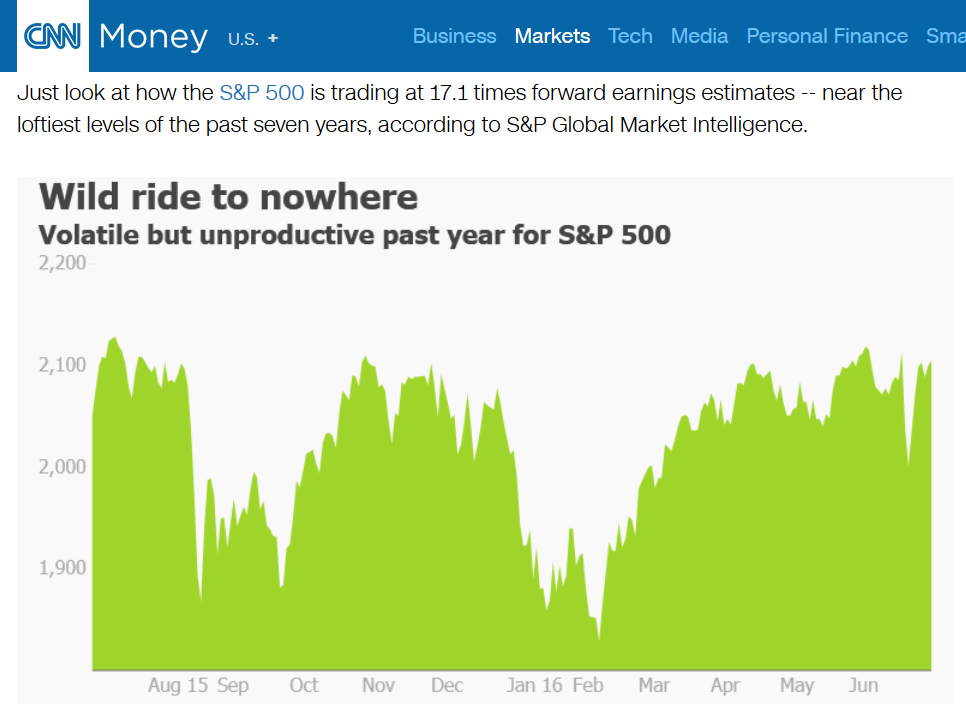 Cheap oil prices and low interest rates are driving solid consumer spending, which is hurting profits for banks and energy companies while boosting retailers such as Amazon. It remains to be seen as to whether Wall Street will experience a "revenue rebound" what could be a year and a half of declining profits. Perhaps reflecting this trend of lackluster performance, local computer chip maker Intel has recently laid off almost a thousand workers in Portland, Oregon with plans to layoff a total of over 2000 employees by the end of the year 2017. No one really knows if that will be enough to have a significant impact on the number of Portland area short sales or whether we have enough positive momentum to push through that setback.
With pressure on companies to give employees raises and fierce competition in the marketplace there may be little room for cost-cutting measures and with weak earnings less free cash for companies to buy back stocks. Given that interest rates are already at rock bottom there seems little else for CEOs and policy-makers to do but wait and cross their fingers.
Real Estate Inventory At/Near Record Lows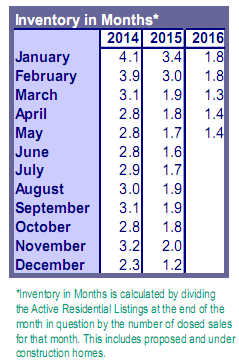 Portland Realtors and their clients are feeling the strain of increased housing costs when trying to help buyers find homes. Family budgets are increasingly not large enough to compete for a place to live in light of the shortage of available inventory of homes for sale. The latest MLS data available shows around 1.4 months of available inventory, which is at or near historic lows. Months of inventory is defined as the length of time that it would take to sell every listing available on the housing market at current homes-sold rates. Low inventory is reducing the number of short sales in Portland, Oregon in that home owners in mortgage default have a greater ability to sell their property for enough money to cover the mortgage and remain in a positive equity position. This trend of low inventory may be partly due to strong buyer activity including new arrivals to the area and also perhaps from current owners afraid to sell because they could not afford to repurchase.
Short Sale Realtors in Portland, Oregon
If you're behind on your mortgage and need a positive solution to avoid foreclosure and repair credit then please call us. We work hard for our short sale clients and our mission is simple: sell the property while having the bank forgive our clients' debts. Government programs like HAFA/HAMP may work with your existing loan modification and there are other bank specific programs that have helped save thousands of home owners just like you from foreclosure.