"Bruce and Richard were consummate professionals the entire process"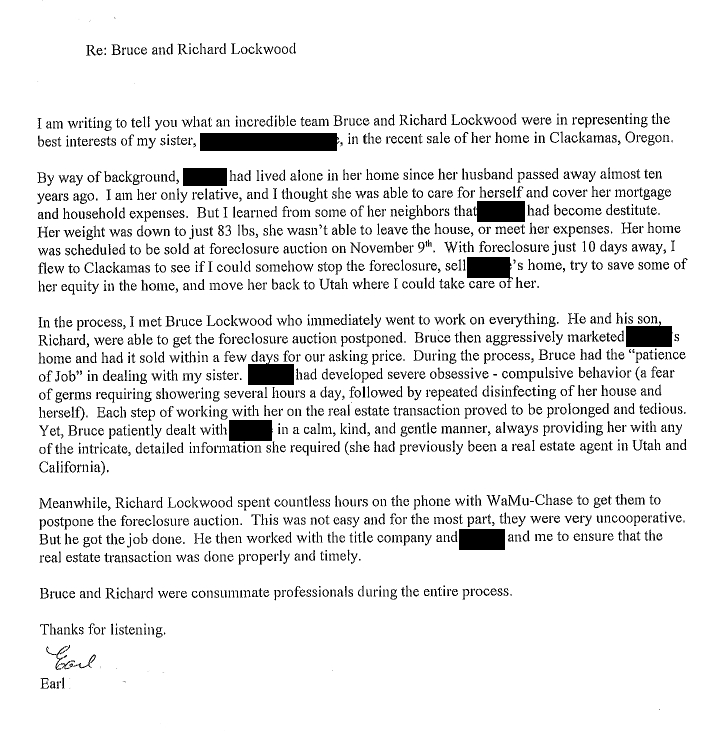 Additional Short Sale Foreclosure Resources
Over the years as a Professional Portland Realtor I have represented many clients that needed extra special assistance in selling their homes. I feel blessed & honored knowing these special clients as they have a way of touching my heart in a unique way.
The attached letter might understate the effort we put into selling this particular home, but getting to know this home owner was indeed an honor for me personally.
She is a fabulous woman that had become unable to deal with the daily business of running a household. We were there for Ms owner & her brother every step of the way with encouragement, support and sound data so that together they could make informed decisions.
If you or a loved one needs special assistance in selling a Portland Home,
please call me directly at 503-473-8001
Sometimes people get set in their ways and change doesn't come easy or fast especially when it comes to moving. I'm sure you have not missed or underestimated the magnitude of a family member letting go of something with so many precious memories like the house.
Together we work through the issues finding peace in the decision making process and solutions in the home sale. What becomes important, are the people, not the house.
As long as family is connected the house can take its place as brick & mortar.
This home seller is a darling and I am honored to be the one her & her brother trusted.
Bruce Lockwood SFR
Broker Licensed In The State Of Oregon
Direct line 503-473-8001