Portland Real Estate Report: Plateau… Or Just Platitudes?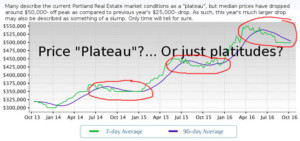 In summary, home values in Portland, Oregon are being described as "hovering" at the moment. Various articles and Portland Realtors commenting on the local housing market have used terms like "plateau", "flattened" and even the somewhat ominous word "cooling" to describe our current conditions. The graph below shows that median prices hit highs at/near $550,000- in the spring of 2016 but have tapered off to our current median price of $499,700-.
Recession has become a zeitgeist and the subject of scary campfire stories ever since 2008. Nonetheless, economic contractions remain a recurring certainty and a predictable part of all economies.
-Richard E Lockwood
Real estate agents note that this settling in prices may be due to our city's tradition of the market being seasonally-cyclical; however, the graph below shows this year's seasonal settling is around twice the amount of fall/winter backsliding over the previous two slow-seasons. Some industry insiders see the opposing forces of increased buyer demand from out-of-state transplants driving prices up while limited job opportunities and comparatively lower wages are putting a damper on price increases. With the fact that the market has just settled about twice as much as it has in the last two years this agent begins to question whether we are experience more of a slump than a plateau. It should be noted that as a Portland short sale specialist I may have a negative bias, but nobody can truly promise future gains or losses.
Market Cools, Portland Real Estate Inventory Rebounds Modestly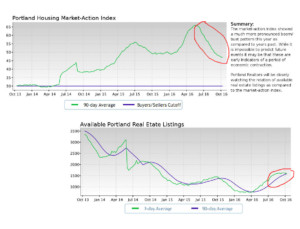 Inventory of available Portland homes for sale has begun to make a modest rebound as market action attenuates a bit. Also certainly a factor in inventory, robust demand from well-qualified buyers and strong year-on-year increases in Portland home values has spurred more sellers into listing their properties on MLS. From its absolute low in the spring of 2016, available listings have increased throughout spring and into summer and appear to be leveling off a bit over 1,500 available residential listings this October. The fact that inventory has gone up over this last summer despite extremely strong buyer activity might be stating that there are enough houses to go around, so long as someone is willing to pay market value (and at least in the summer months, likely over asking price).
As of July, Portland Realtors began to note that the market action index had begun to fall off precipitously, but may be beginning to level off at its current status which is near spring 2015 levels. Despite all of the recent data, it is unclear whether current real estate market conditions represent a shift in momentum or merely a pronounced seasonal pricing adjustment. Portland, Oregon remains a desirable moving destination for people across the United States and the world and we may be seeing that increase in relative demand born out in today's higher prices. However, housing demand from new transplants may be tempered by the noticeable increase in condo developments, multi-unit apartments and a national and international economy entering into the next recession. Recession has become a zeitgeist and the subject of scary campfire stories ever since 2008. Nonetheless, economic contractions remain a recurring certainty and a predictable part of all economies (for more on this, here's a recent Op-Ed article by Barry Ritholtz).
Elections, Wall Street & International Influences on Our Local Economy
A recent CNNMoney article issued a rather negative view of our nation's economic outlook, citing factors such as sluggish economic growth, which has averaged only 2% per year since 2009 as opposed to a more robust 3% from 1990-2005. What may be more disturbing is that the Federal Reserve's second in command recently released a statement that our nation may be plagued by sluggish growth for quite some time to come. One of the big stimuli for real estate growth out of the recession has been extremely low interest rates. However, low interest rates are correlated to sluggish economic growth, entice investors into potentially risky investments and worst of all reduce our nation's ability to ward off another housing crisis. In response to the last recession, the FED lowered interest rates to historic lows. Now, with rates already very low the FED simply doesn't have the margins to reduce these already minuscule rates.
Furthermore, investors are fearful that the looming election may add an unwelcome wildcard to our nation's financial position. Recent opinion polls show that Investors on Wall Street want Hillary Clinton to win and see Donald Trump as potentially threatening to their financial interests. While Trump's abrasive statements leave many wondering about potential hurdles to future international relations, others see the key issue as Hillary's ties to deep pockets on Wall Street. It could also be that Obama's White House and the FED are trying to keep the economy in a holding pattern until after the election is won for their endorsed candidate.
Best Regards,
Richard Lockwood
Real Estate Broker | Oregon Realty Co.
*All statements in this article are the sole opinion Richard Lockwood at the time of publishing. Richard is a full-time practicing Portland Realtor and no statement herein is legal, financial or tax advice. Please seek the advice of appropriate experts before embarking on any financial decision or investment strategy.
[huge_it_share]