Portland Real Estate: Spring 2017
The Portland Metro Association of Realtors has just released its housing market action report for the previous month (February, 2017) and the news is somewhere between lackluster and mixed. While accepted offers were notably higher than in January, the levels of newly pending sales are 15% behind where we were last year. On the other side of the equation, new listings coming into the housing market this year were 12.9% below the number of new listings in February, 2016. Fewer listings and fewer sales is the theme for winter and spring for Portland in 2017 thus far. Closing transactions also dropped by 9.6% month to month and 7.9% when compared to closings in the same month a year prior. It's important to note that last years' spring buying season was stronger than ever and we also do experience seasonal slowing of the market in the winter months prior to spring. What we're experiencing may be the prelude to another bold move forward in home values or the beginning of the market cooling off a little.
Spring 2017: This Year Vs The Last
Comparing 2016 to 2017 shows that both average and median home sales for the greater Portland metropolitan area increased over $40,000- year on year. Average jumping from $357,400- to $400,800- and median sale price going from $310,000- up to $350,000-. It's important to note that these average and median sales figures include comparatively lower-priced suburbs. The local RMLS publication on housing market action has dubbed these market indicators as "mixed activity" but to me it seems to be lackluster, somewhat negative activity. What we don't know is whether this flagging housing activity is a seasonal adjustment period or the beginning of a market correction or crash. Across the entire metro Portland market the median selling price is up 12.9%, which is much higher than many feel the market can sustain for any length of time. The question for many is whether prices will stabilize or will we enter a new bubble phase.
When we examine the data for winter, 2017 it does appear that we're at something of a crossroads in terms of Portland real estate prices. Over the last several years, our market has consistently seen a winter slump in terms of both sales and prices. The coming months will be crucial in terms of defining the market's trajectory in that a slow spring buying season would reduce upward pricing pressure, whereas a busy buying season would relegate recent slowing to nothing more than a normal seasonal correction. The graph below shows the seasonal nature of housing and how seasonal slowing makes way for a robust spring buyer season. What's also noteworthy is that over the last few years the spring buyer market rally has increased in intensity each consecutive year. If this pattern continues then we're about to see an even bigger rally than ever in the next few months. Or, if we're moving into either a plateau or settling phase of the market then the buyer rally of this spring will be attenuated or perhaps even absent.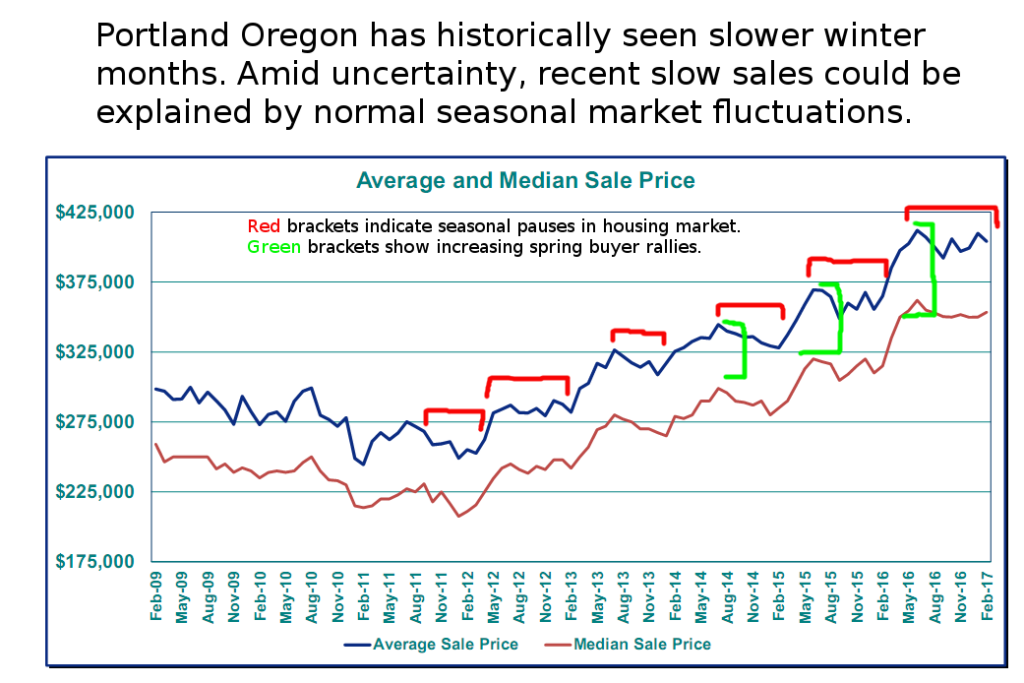 All this is to say that we really don't know what the future of the market will hold and one could use the current data to support widely divergent theories as to how events will play out.
Portland Homes For Sale 2017: Rise of the Condos
A simple glance at Portland's skyline betrays the distinctive outline of numerous new towers rising to meet Portland's booming demand for close-in housing. While many natives and longtime residents don't appreciate the towers blocking their views, these new developments may be one way to help mitigate the exponential rise in housing costs for Portland, OR. With an increasing number of new condos coming to market this may provide an alternative housing solution. Year on year, the data shows stable demand with an increasing supply. So, will increased supply satiate demand and help slow Portland's fast-paced real estate price increases?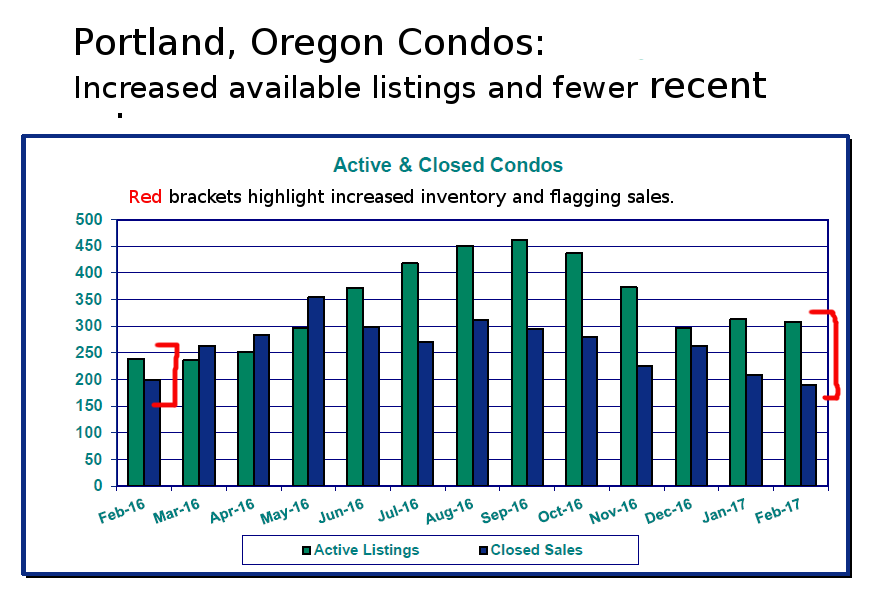 Homes Are Still Selling Fast When Priced Right
Despite these recently "slow" months it is important to bear in mind that we are speaking in relative terms. And, while my listing clients may not be being bombarded with dozens of all cash offers over-and-above asking price we're still selling homes when they're priced right and in front of buyers. With a new average of around 60ish days on market for homes for sale in the metro area. With this in mind, it may be more accurate to say that Portland homes are still proverbially flying off the shelves, it's just that buyers aren't stampeding each other to get their offer in. As such, it's important to be priced right while not scaring off buyers with a price that's reaching beyond what consumers are comfortable with. It's also often said that "time is money" and this is also very true in housing in that every month that someone's house doesn't sell may be adding up to costly lifestyle delays that can result in tangible financial losses. For those looking to sell and buy another house, delaying the sale with an unrealistic price may mean losing out on an ideal home for purchase.
In summary, the next three months of 2017 will play a crucial role in shaping the direction of the real estate market for Portland, Oregon. While recent years' gains have been increasingly robust, some feel that the seasonal slowdown has been a bit more pronounced as well. What we don't know is whether or not Portland real estate will continue its steeply terraced seasonal pricing ride upwards or plateau out near where we're at. There's always also the chance that these steep price increases will continue into the foreseeable future leading many to question whether we may be creating a new housing bubble. Even if housing does experience another market correction its important to realize that such conditions are generally temporary and home ownership has always been a long-term proposition replete with many seasonal and somewhat longer rallies and correction periods. Whether you'd like to buy or sell, please call us to learn more about all things Portland real estate.