Take our fun, interactive real estate quiz to help kickoff your Portland, Oregon home search. Okay well, maybe you don't want to make such an important life decision based on a silly quiz but we hope you at least get a chuckle about the interesting questions. As we Realtors always say, if the questions aren't questionable, then they're probably not very entertaining. All jokes aside, if you need help finding a home and appreciate experienced Portland real estate agents with dry senses of humor then call us to start looking for a home that actually fits with your lifestyle.
[os-widget path="/richardlockwood/what-s-your-portland-home" of="richardlockwood" comments="false"]
[expand title="Answers to the quiz inside:" tag="p"]
Redneck Paradise
The Swanky Condo: The 0bed/1ba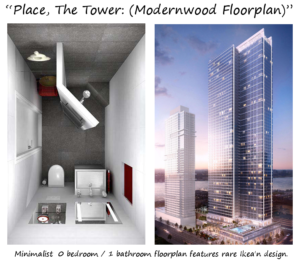 Location, location, location! Would you like to live in the coolest, swankiest, hippest condo tower that has both swag and class but only have a million dollars to spend??? Then "Place, The Tower: (Modernwood Floorplan)" has what you need. Realtors take note of the charming 0bed/1bath that offers the finest in Minimalist European design. Unlike some competitors, "Place, The Tower: (Modernwood Floorplan)" has upscale features like a bathroom and free WiFi that's included free with your $5,000/month association dues. And ummmm, did we mention the location.
The Fixer-Upper: The Diamond in the Rough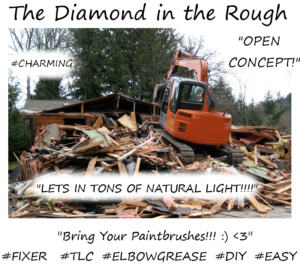 Realtor says: bring your dreams and paintbrushes!!! This charming Old-Portland Bungalow is the piece of history that fits into your budget; it just needs a tiny bit of TLC and imagination. This home is affordable and features a breezy open-concept that lets in tons of natural light! The walls may be falling down but the neighborhood is UP & COMING.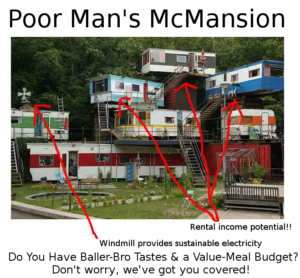 Treat your family to a life of classy elegance in the expansive country estate. With plenty of room for mee-maw, pee-paw and haw-haw, you'll always be near your loved ones. Extra features include duck pond with real 'gators and free cable that you stole from your neighbors. If you love beer, monster trucks and bbq this charming custom is a winner.
The Mcmansion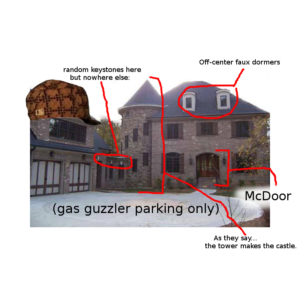 This XXL garage has been tested and guaranteed to fit couple's H2 Hummers and still has room for a container-load of beer-pong accessories. Have you ever wanted your master bedroom to have a fake balcony that's too small to actually use? How about a piranha tank where the kitchen table used to be? If you answered yes to any of those questions or you have an SUV with an Oregon Ducks Bumper Sticker then the McMansion is for you! Seller says that with a full price offer they'll include the Nickelback-themed pool table.
The Buyer-Configurable Art Loft
You live life by your own rules and speak the universal language of dance! This is the perfect home if you want to live close-in while lead an independent, artistic lifestyle but you haven't won the lottery (seriously Realtors, get with it). This space won't spoil you with upscale features like a bathroom or a kitchen but you'll appreciate all the charm that this tabula rasa offers and more. Lastly, while it's true that transforming a blank concrete box into a comfortable and habitable space is beyond the experience and budget of most people you'll still be able to explain the lack of walls or a door to party guests by claiming that the loft (like all of us) is still a work in progress.
[/expand]