Days on Market For Single Family Residences
Metro Area Market Action News report. Today we will examine graphs of how long houses in Portland Oregon stay on the market. This gives us an idea of the strength of the economy because active listings going fast shows that many buyers are interested in and able to make purchases. Sellers are also very interested in how long it will take for someone to buy their property, trying to balance a quick transaction with getting a good price. As market-savvy Realtors, we take these factors into account when we do a Competitive Market Analysis for homes in and around Portland.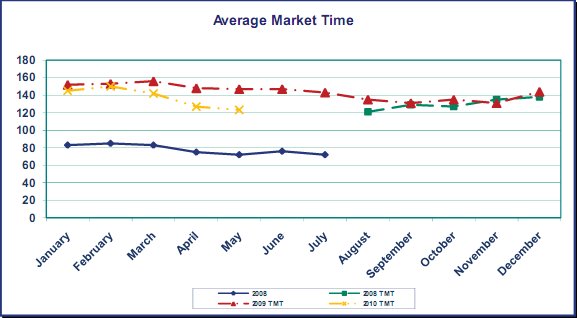 The Economic Recovery and Local Housing Infrastructure
Real Estate investors, homebuyers as well as industry professionals including escrow and loan officers may sometimes use average days on market as one of the many quality measures of buyer demand for sinlge family residences. When we (licensed agents) see downward trending days on market it shows that buyers are motivated to close the deal and are more willing to pay the prices that sellers are asking; this can certainly have an effect on Home Values. As you can quickly see, days on market provides some Portland Realtors with a barometer of sorts for estimating Supply and Demand. This graph shows the average market time for completed transactions in the Portland, Oregon metropolitan area. *As of August 2008, graph now reports "Total Days on Market".