During recent weeks we have seen closed transactions in addition to pending deals have both improved substantially. The many value-priced Portland Short Sales have no doubt added some fuel to the fire when looking at homes for sale. These factors on home values have even more impact when considered with the lowering of average and median closed price of recent economic trends. Closed deals in the month of May have expanded exponentially by over 47% when compared to May of 2009. The numbers say that conditions have improved and prices are certainly better than ever in these trying times. So, with attractive prices combined with stellar interest rates, many investors as well as first time home buyers are buying into residential real estate short sales and foreclosures.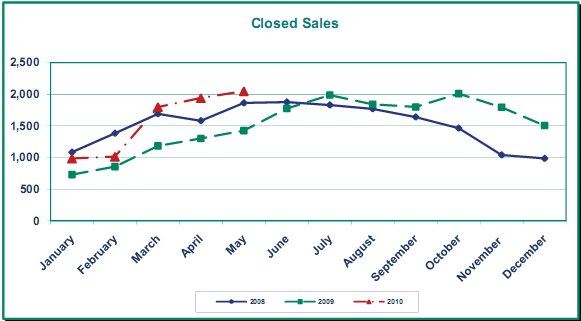 Residential Property Values
These are important facts for everyone looking at buying or selling in the metro area. Closed transaction final prices for May 2010 sank 5.5% compared to May 2009, while the median property values also went down 4.4%. See the residential highlights table below. When comparing May 2010 to the month prior, April 2010, the average price fell 2.3% ($275,500 v. $282,100) and the median price decreased slightly by 0.4% ($239,000 v. $240,000). Thanks for reading, and as always, if you need a Realtor in Portland, don't hesitate to call today.