If you need a short sale specialist in Gresham, Oregon give us a call. Whether you need help with buying or selling we'll make things happen for you. We work with all major banks and we negotiate directly with the bank on your behalf. It's important to note that as negotiators and Realtors we work for you and have a legal duty to serve your best interests. While we work with the bank to make the short sale win-win so the bank will say yes, our fiduciary obligation is to deal honestly with our clients while acting in good faith to you.
Get Help With Your Gresham Short Sale Now: 503-473-8001

We Never Charge Extra Fees For Short Sale Services
We're brokers with Oregon Realty Company, the largest independent brokerage in the state and we're proud to be an integral part of our firm's almost seven decades of helping our neighbors in Gresham, OR with all their real estate needs. With this in mind, it's important to note that we never charge people extra fees on short sales. Some competitors don't actually do their own short sales and they have to charge fees to cover the blue-sky costs of outsourcing most of the work of the transaction. In contrast, we believe in giving you our best which is why we don't outsource and we never charge our clients extra fees. Short sale sellers are already dealing with enough and shouldn't be burdened with extra middleman fees. We also don't charge buyers extra fees either because a buyer needs to be encouraged to write an offer, not punished for making an offer with extra fees. Some competitors who outsource to middlemen put the fees on the buyer instead; but we don't charge buyers extra fees because buyers making offers is crucial to selling the property and avoiding foreclosure. If a Realtor wants to charge the buyer extra fees they may be chasing buyers away from your listing, which increases your risk of foreclosure. We never charge sellers or buyers extra fees because we want the job done right, so we do it ourselves.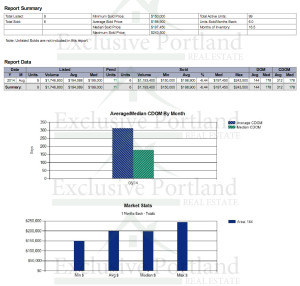 Gresham, OR Short Sale Report
Currently, there are nine newly listed Gresham, Oregon short sales with an additional eleven pre-foreclosures marked pending or "SSP" (Short Sale Pending). Currently, there are a total of 52 short sale listings in Gresham that are Active, Pending or SSP. As a comparison there are 379 total active, bumpable-buyer, SSP & pending residential properties currently in Gresham. Meaning that distressed pre-foreclosure transactions currently account for 13.72% of the total residential housing market for this Portland suburb (all data pulled from RMLS statistics and should be independently verified). During the last thirty day period six pre-foreclosure transactions in Gresham were sold. Median asking price for active Gresham short sales is $199,000- and average asking price is similar at $194,088. Average combined days on market for this type of distressed property transaction is at 312 while the median combined days on market is much lower at 178 days. Average statistics for all Gresham real estate listings is as follows: average list price is $242,565, median list price is $237,920, and combined average days on market is 55 days. Despite these recent increases in local and Portland metropolitan area home values there are still many home owners dealing with negative equity.
Gresham Short Sale Specialist
If you need a Gresham short sale specialist (for buying or selling) don't hesitate to call us with any questions you have. Our entire team of experienced Realtors is SFR (Short Sale Foreclosure Resource) Certified and we negotiate all short sales in-house. Some competitors outsource the negotiations to middle-men (which tacks on extra fees) but we want the job done right, so we do it ourselves. If you are looking to purchase you'll appreciate the fact that because we've helped countless sellers that we'll be able to give you an inside track for preparing a competitive offer that gets you the price you want while making the offer win-win so the seller and bank approve of it. If another Realtor wants you to pay an extra fee call us first; since we don't waste time and money and do the work ourselves we're able to pass that savings on to our clients. Our wide range of experience speaks for itself. Call us to learn how we can help you.
Economic Outlook For Gresham, OR
The local housing market and Gresham in particular seem to be cooling off; which is normal considering that the busy summer buying season is coming to an end. However, industry experts are unsure how much values will settle as a result and also whether we're seeing normal, seasonal housing adjustments or the beginnings of a new slump in the housing sector across the board. Some economists fear that wider economic measurements such as household income, wages and economic growth won't be sufficient to support continued residential appreciation at current rates. In effect, if housing costs keep going up at the rates we've seen coming out of the downturn then we could run the risk of inadvertently re-inflating the next real estate bubble. In keeping with these trends it appears that much of the competition amongst buyers is for "affordable housing" in that families simply want a place where they can afford to live. When the time comes that average families again can't afford these entry-level houses we could see another downturn*.
Should Gresham Residential Property Values Increase?
When economists speak about these factors in the housing market they use industry jargon that could be summarized and paraphrased as follows: "recent home value increases are not supported by 'fundamentals'" (see tory/money/markets/2014/06/29/do-real-economic-fundamentals-support-this-market/11556221/">USA Today Article). What this means is that job growth and wage increases are either non-existent or increasing at a snail's pace whereas home values are skyrocketing. So, if wages are stagnant it follows that residential property values either have to quickly plateau or we'll quickly be back into the housing-bubble danger zone. Many Realtors feel they have to pump up every bit of good news to keep the housing market's momentum going. However, we feel that a more circumspect approach is to say that values have gone up but that average wages and household incomes haven't gone up as much. So, if prices stop where they are we may avoid a new bubble. That said, fanning the flames of the market to keep things boiling away at a breakneck pace may not be serving the long-term good of home owners, buyers, and the the overall market.
Also, it seems like the unquestioned mantra in real estate that price increases are good, and settling prices are bad. However, during the previous housing bubble we would argue that the runaway price increases that priced millions of families out of the market and trapped millions of other hardworking families in homes with mortgages they could barely afford at best. People getting priced out of home ownership doesn't serve America and it doesn't serve Realtors who want to help people build long term, stable equity and stability for their families. These runaway prices serve speculators looking for immediate 'house-flipper' profits and bankers looking to make big commissions by stuffing people into ever-increasing debt.
*(This is an editorial piece and the author nor any other Realtor cannot predict future profits or losses. The author's predictions are simply conjecture based on opinions regarding current market conditions which may prove to be accurate or inaccurate at any future date).