We're short sale specialists serving Milwaukie, Oregon and we've helped a multitude of home owners just like you regain their financial freedom. Our of our team members are SFR (Short-sale Foreclosure Resource) certified specialists and we always handle all negotiations in-house so you get the best quality service. Some of our competitors outsource the short sale work but this often leads to buyers and sellers getting stuck with blue-sky middleman fees. When you call us you speak directly with experienced Realtors who are ready to help you short sale your Milwaukie, Oregon property.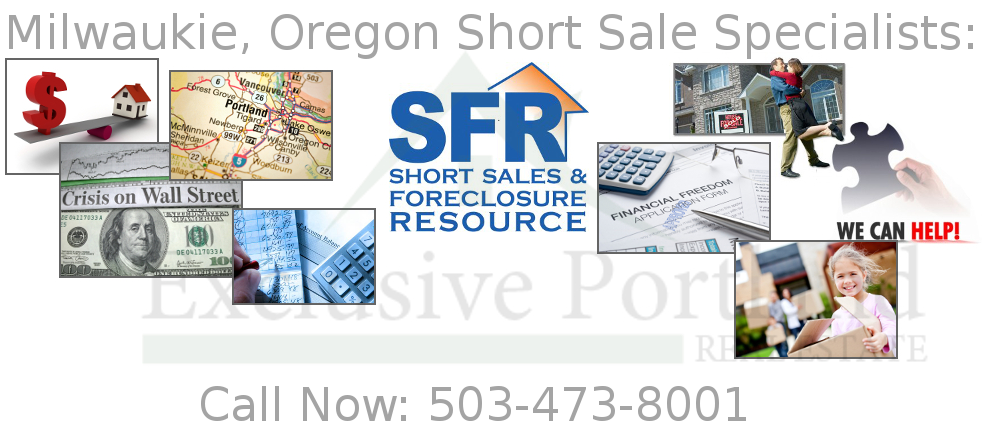 We Negotiate Your Short Sale Personally: It's Our Duty To Put Your Needs First
We want your short sale done right, so we do it ourselves (providing a better service while saving you money by not tacking on blue-sky middleman fees). We work for you, not the bank. And, while we cooperate with the bank's process to arrive at a win-win agreement that both you and the bank agree to it's important to note that our legal obligation is to serve you the client. After we meet and sign the paperwork, we have a legal obligation to you known as a fiduciary duty. Basically, our fiduciary duty to you means that we are required to act in good faith and put your needs first. By negotiating all short sales in-house we provide you with better service at a better price. No BS, no middleman fees, we want your Milwaukie short sale done right and that's why we'll do it ourselves.
Oregon Realty Company: Almost Seven Decades of Superior Service
As Realtors and state licensed brokers at Oregon Realty Company we take pride in our firm's long heritage of providing local service to our community. As the largest independent brokerage in the state we're big enough to have all the resources needed to help you while also being small enough to give you the personal attention and local service that you expect from us. Our unmatched track-record of exceeding clients' expectations and our innovation in helping people with short sales means when you list with us you benefit from the experience we've gained helping a wide multitude of clients from all walks of life. Don't be someone's "learning experience", call us and deal directly with licensed Realtors who are experienced negotiators and SFR certified short sale specialists.
Milwaukie, Oregon Short Sale Specialist Report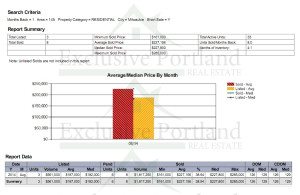 As of right now there are 305 residential real estate listings in Milwaukie, Oregon. 35 of those are Milwaukie short sale listings with the remaining 270 being a combination of foreclosures and private party listings. Active Milwaukie, Oregon short sale listings have a median list price of $234,900 whereas listings marked "short sale pending" listings have a median list price of $187,000. This shows the disparity between what banks would like to get for their short sale inventory versus what the market will actually pay. Short sale pending (abbreviated 'SSP') is defined as listings where the buyer and seller have agreed but the bank has not yet approved the offer. In contrast, pending Milwaukie short sale listings are real estate transactions where buyer, seller, and bank have all agreed to the terms of the agreement and the transaction is closing imminently. Pending Milwaukie short sales are at a median list price of $205,182. This shows the spread between the higher price of active listings, the lower price of SSP homes, and the price in the middle on pending transactions where all parties agree.
As short sale specialists serving Milwaukie, Oregon and Portland metro we are still seeing a multitude of hardworking clients who simply need a short sale. Factors like increased mortgage payments, reduced equity, job transfers or even family medical bills can all be valid reasons for short sale. We work for you, not the bank. So, while we have proven strategies to help the bank understand where you're coming from it's important to realize that we're on your side. When you need a team of experienced Realtors who are SFR certified specialists make us your first call.
The rate at which homes are selling has tapered off substantially in recent weeks both nationally and across the Portland metro area. Milwaukie, Oregon is no exception and Realtors and other industry insiders are left to wonder how much of this is normal seasonal adjustment and how much is home buyers being priced out of the market. Sectors of the market generally seeing the most activity are affordable homes. It goes without saying that families who were burned in the recession are now wanting a reasonably priced home. Also, average wages and household incomes have been very stagnant for much of the last decade meaning that the average American only has a finite housing budget. One of the final nails in the coffin of the economic downturn was when entry-level housing became too costly for first-time home buyers. And, with annual home value increases in excess of 10% it won't be long until we reach that point again. We may get to a cool down point where the market pauses at a plateau and for many this would be preferable than depreciation. However, those kinds of price increases can't be sustained indefinitely.
One of the biggest risks for the housing sector is the fact that multi-billion dollar corporate interests have been buying up hundreds of thousands of foreclosure and short sale homes across the US over the last few years. In my practice as a short sale specialist I've seen dozens of offers come in from out of state companies looking to buy and rent out residential houses for profit. These corporations plan to make money on the rent revenue and also make money by reselling the homes at a handsome profit. The problem with this widespread Wall Street money backing institutional buyers is that these purchases have artificially pumped up demand. Combine these large corporate buyers with the popularity of "house flipping" where individuals or businesses buy homes, slap on some quick repairs and dress-up, and then resell the property for a quick buck. As a real estate broker, I've seen multiple perfectly habitable homes that had five investor offers for every one private party buyer. All these factors taken together mean that although recent news may be positive, there are certainly some storm clouds on the horizon.
Best Regards,
Richard Lockwood
Real Estate Broker
Follow Richard Lockwood on Google+