Today we look at what inner South East Portland is doing to promote sustainability in the Hawthorne District as well as the Hosford-Abernethy neighborhood including Ladd's Addition. The "Green Streets" program addresses rainwater (an issue in Portland, Oregon) while at the same time making our streets safer and more attractive to pedestrians and bicyclists. The plan is fairly simple; to put green spaces between car traffic and pedestrians which will absorb an estimated 74,000 gallons of rain runoff water yearly. Additionally, the placement of these green spaces will give pedestrians & cyclists shorter street crossings while giving drivers more visibility of pedestrian and bicycle traffic. Not only that, Realtors applaud the plan which includes improving the marking of bicycle lanes, helping the environment and beautifying our streets. Call us when you're ready to learn more about Hawthorne Portland Real Estate.
Hawthorne | Hosford-Abernethy Portland Sustainability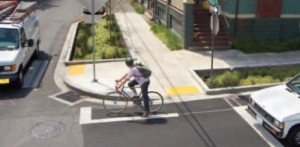 These Green Streets will benefit the Hosford-Abernethy neighborhood as well as the Clinton and Hawthorne District, not to mention historic Ladd's Addition. Sustainability is key in that planted shrubs and trees in these green areas counteract pollutants which contaminate sewer drainage while making our streets safer and more aesthetically pleasing.
Hawthorne district | Be Yourself
If you would like to live in the Hawthorne District, Hosford-Abernethy or in any of the other excellent inner South East Portland Oregon communities then call us today to take advantage of exceptional values on realty short sales: 503-473-8001