Woodstock Area, Schools & Housing Market
Located on the inner South East side, the Woodstock Neighborhood is delineated by SE Holgate on the north, 39th avenue on the west, by SE 60th & 45th avenues on the east and on by Johnson Creek to the south. Founded in 1889, Woodstock is among Portland's oldest neighborhoods and boasts homes built as early as the late 19th century as well as newer infill construction. Interestingly enough, like many neighborhoods of the time, Woodstock was named for a character from one of Sir Walter Scott's romantic novels. With a bustling civic center located on SE Woodstock Boulevard surrounded by quiet streets with wonderful homes, those who own real estate in the area are proud to call Woodstock home.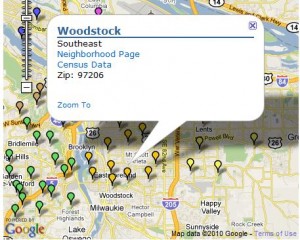 Woodstock Neighborhood School Information
Portland Woodstock Neighborhood Schools
Woodstock Elementary School
Kellogg Middle School
Cleveland High School
Changes in the economy combined with increasing numbers of Woodstock foreclosures make home prices more affordable than ever. Short Sales, REO and pre-foreclosures are bringing home prices in the Woodstock neighborhood real estate market down, meaning that savvy investors as well as first time home buyers taking advantage of government incentives are buying homes for sale for cents on the dollar. Call Portland Oregon Realtors today to help you get an exceptional deal on the great homes in south east Portland's Woodstock neighborhood: 503-473-8001.